STORY UPDATED: check for updates below.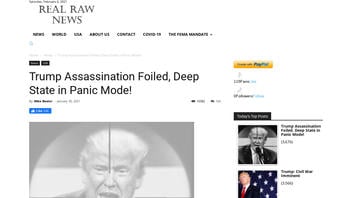 Was an assassination attempt against former President Donald Trump foiled late in January 2021? No, that's not true: the source of the assassination story is a website with a history of publishing false claims and there has been no official confirmation or reporting from any reliable source . The Secret Service has formally denied to Lead Stories any of it is true.
The story appeared in an article published by RealRawNews on January 30, 2021 titled "Trump Assassination Foiled, Deep State in Panic Mode! - Real Raw News" (archived here) which opened:
On Tuesday morning, January 26, at approximately 3:00 am, a sniper's bullet struck a panoramic casement window on the east wall of Trump's bedroom at his Mar-a-Lago estate. The round might have slain Trump had he not recently replaced tempered glass with Blast Structures International's bullet resistant glass, which, according to the company's website, can stop anything less powerful than a .50 round.

A confidential source within Trump's inner circle told Real Raw News that Trump was asleep in bed, and, a light sleeper, was awakened by the "sharp crack" of the bullet striking glass. The round did not penetrate the glass, but caused a material-science dissipation fracture, or spiderweb pattern.

The strike, our source said, triggered a silent alarm that instantly notified the Palm Beach Police Dept. and Trump's Secret Service Detail, which sleeps in a guest house ten yards from the main building. Agents whisked Trump to safety, escorting him to a fortified saferoom, and said they'd coordinate with local authorities.

But Trump demanded they call the Palm Beach Police Dept. and say it was a false alarm.

"Trump was adamant no police get involved," our source said. "He told his guys he wants to keep it in the family. No law enforcement. No media. He was very stern about keeping the media blind to the event. Trump made a phone call, and inside of thirty minutes, some heavy-hitting dudes who were definitely not Secret Service arrived at the estate," our source said.
The story is suspicious for multiple reasons:
Why would a "confidential source" in "Trump's inner circle" blatantly ignore Trump's supposed orders to "keep the media blind" in order to leak to RealRawNews, an anonymously registered website that was only registered in April 2020?
Lead Stories found no trace of a company named "Blast Structures International" nor its website, despite checking Bing, DuckDuckGo and Google.
The US Secret Service habitually publishes press releases about threats against the people the people they protect (for example here, here, here and here) but they haven't made any announcements about this one.
No reliable media outlets have reported on these events.
The website RealRawNews has published several hoaxes in the past, we wrote about some of them only weeks ago:
Lead Stories reached out to the Secret Service to inquire about this story and received a very short and to the point reply by email:
The narrative presented here is completely false.
We also contacted the Palm Beach Police Department, this was their response:
The Palm Beach Police Department has no record of the event your email referenced, nor do we have any record of alarms or alarm responses.
NewsGuard, a company that uses trained journalist to rank the reliability of websites, describes realrawnews.com as:
An anonymously run website that has published baseless and debunked conspiracies about COVID-19 and U.S. politics.
According to NewsGuard the site does not maintain basic standards of accuracy and accountability. Read their full assessment here.
2021-02-08T15:53:44Z

2021-02-08T15:53:44Z

Update story with Palm Beach Police reply

2021-02-06T23:11:07Z

2021-02-06T23:11:07Z

Updated story with Secret Service reply