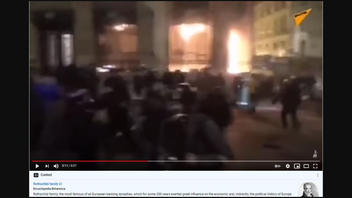 Is this a video of a Rothschild & Co-owned bank in France on fire in late 2020? No, that's not true: The video features the Bank Of France, that country's central bank, which is not owned by any Rothschild subsidiary. This fire broke out as a part of protests in response to a police security bill that limits people's right to film, photograph, and post content of on-duty police officers in the greater context of the Yellow Vest protests against wealth inequality.
The claim appeared in a YouTube video (archived here) where it was published by Jesse James VLQG on November 29, 2020 with the caption "France Paris Rothschild Bank Burning." Here is the video in question:
This clip was originally part of a four-hour long video posted by Sputnik, a Russian state-owned news agency. In the full video from Sputnik, the "BF" for Bank of France is clearly visible on the side of the building:
When this building, on Boulevard Beaumarche, is located on Google Maps street view, it is clearly marked as Bank of France, Check Your Fact reported.
Rothschild does not own the Bank of France; it is completely state-controlled and was founded by Napoleon Bonaparte.