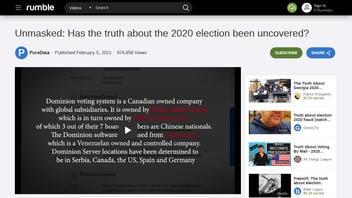 Does the "Unmasked" video uncover the truth about the 2020 presidential election? No, it doesn't: The video remixes previously debunked claims of vote fraud and election theft. Chief among them were allegations that "vote spikes" in battleground states were suspicious, that Georgia poll workers pulled boxes of illegal ballots from under a table for counting, that foreign countries skewed the election and that ballots were shredded and tossed in the trash. All have been investigated and disproven.
The claims were made in a video (archived here) published to Rumble on February 5, 2021. Titled "Unmasked: Has the truth about the 2020 election been uncovered?", the video included narration. A man's voice says at the start:
People on both sides agree that something went terribly wrong in November 2020, but there really has been no comprehensive place to see the evidence of widespread fraud -- until now. This video is pure data, so don't get mad.
Users on social media saw this title, description and thumbnail:
The truth about the November 2020 Election
The roughly 16-minute video is broken down into categories, each one of which purports to show a different type of fraud. The first category looks at so-called statistical anomalies. The narrator states:
In the early hours of November 4, 2020, Democratic candidate Joe Biden received several major vote spikes in Michigan, Wisconsin and Georgia, suddenly placing him in the lead, when he had been trailing [Donald] Trump by a significant margin.
He goes on to imply that such jumps are suspicious.
Election officials told Americans ahead of Election Day that mail-in ballots would be added in all at once when counted and could heavily favor one or another candidate, since different demographic groups tend to use mail-in ballots as opposed to in-person voting. Lead Stories has looked into the claim that it was proof of fraud and found it does not hold water. We reported on the "sudden injection" of nearly 385,000 votes in Michigan and a late night "ballot dump" in Georgia that allegedly occurred at the same time as a "pipe break." We also reported on "ballot dumping" in Wisconsin.
There's often a delay between when absentee ballots are counted and when they are reported, leading to what may look like a sudden spike in votes. A spokeswoman for the Michigan secretary of state told Lead Stories: "This is common in every election and is due to the natural lapse between the physical process of running batches of ballots through a tabulator, and when that information can be collected and manually input by an election official. It is in no way indicative of fraud."
At 4 minutes, 15 seconds, the narrator introduced the case of a poll worker named "Ruby." While video from Georgia played, he said:
At 10:30 p.m., on November 3, all media and poll watchers were told to leave State Farm Arena because ballot counting was going to stop. But Ruby and her daughter and three others remained behind ... They pulled boxes of ballots out from under the table that was placed there in the morning and distributed them to several counting stations.
Those claims have been disproven. Two high-level officials with the Georgia secretary of state's office and a state elections board monitor each told Lead Stories that their investigations revealed nothing suspicious. The officials said the ballots seen in the video were in regular ballot containers and they had been removed from their envelopes and processed while news media and election observers for the Republican Party and Trump campaign were present. The media and party observers were never told to leave, but they apparently followed the envelope-opening crew when it was excused for the night, the chief investigator for the secretary of state told Lead Stories. Georgia law allows requires ballot counters to accommodate observers, but does not require them to be there for ballots to be counted.
At 8 minutes, 12 seconds, the narrator discussed Dominion Voting Systems' supposed ties with foreign countries, including China. He alleges that Dominion software "is licensed from Smartmatic, which is a Venezuelan owned and controlled company." Dominion has repeatedly denied those claims. It has said that it does not use or license Smartmatic software and is an American company with no ties to the Chinese government.
At 9 minutes, 30 seconds, the narrator mentioned a report on Antrim County, Michigan, that supposedly showed "unusually high error and adjudication rates." We've covered that claim before, finding that the voting software was not -- in fact -- designed with inherent errors to create systemic fraud and that an audit of Antrim County ballots and tallies found no significant errors.
At the 12-minute mark, the narrator ran through a laundry list of other claims, including the allegations that ballots for Trump were shredded and tossed in the trash. Again, we've debunked those claims before. In one case, the discarded ballots were spoiled; in other cases, the documents in question were not ballots. In another case, the photographic "evidence" of ballot burial turned out to be photos of spoiled chicken meat being disposed of in Saudi Arabia.
To sum up the video, the narrator said toward the end:
2020 was a complete sham and it cannot ever happen again.
As this fact-check has shown, that's simply not true. The video's purported proof does not withstand scrutiny. Its claims have been repeatedly and widely debunked.
The U.S. Cybersecurity & Infrastructure Security Agency (CISA) has described the 2020 election as the "most secure in American history." You can read its full statement here. In a December 1, 2020 interview with the Associated Press, then-Attorney General William Barr told the AP FBI agents and U.S. attorneys followed up specific complaints and information reported to the agency, but "to date, we have not seen fraud on a scale that could have effected a different outcome in the election."