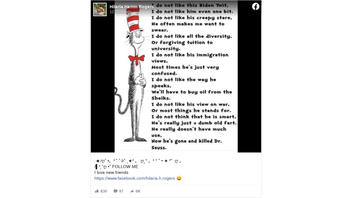 Has President Joe Biden "killed" Dr. Seuss, as six Seuss books will no longer be published? No, that's not true: the publisher of the books, Dr. Seuss Enterprises, says it decided last year, in conjunction with a panel of experts, to stop publishing six Seuss titles that included "hurtful" portrayals of people.
The claim appeared in a post (archived here), published on Facebook on Tuesday, March 2, 2021. It opened:
I do not like this Biden twit,

I do not like him even one bit.
This is what the post looked like on Facebook at the time of writing:
(Source: Facebook screenshot taken on Wed Mar 3 16:20:50 2021 UTC)
The post, written in a mock Seuss rhyming style, criticized Biden on various things and ended with:
He really doesn't have much use,

Now he's gone and killed Dr. Seuss.
But a statement from Dr. Seuss Enterprises, issued on March 2, 2021, explained the decision to stop publishing six Seuss books was made in 2020:
Today, on Dr. Seuss's Birthday, Dr. Seuss Enterprises celebrates reading and also our mission of supporting all children and families with messages of hope, inspiration, inclusion, and friendship.

We are committed to action. To that end, Dr. Seuss Enterprises, working with a panel of experts, including educators, reviewed our catalog of titles and made the decision last year to cease publication and licensing of the following titles: And to Think That I Saw It on Mulberry Street, If I Ran the Zoo, McElligot's Pool, On Beyond Zebra!, Scrambled Eggs Super!, and The Cat's Quizzer. These books portray people in ways that are hurtful and wrong.

Ceasing sales of these books is only part of our commitment and our broader plan to ensure Dr. Seuss Enterprises's catalog represents and supports all communities and families.
Critics drew Biden into the controversy because unlike his predecessors, presidents Obama and Trump, he left Seuss out of his Read Across America Day proclamation on March 2, 2021. Biden staff said the omission was due to shifting priorities of the organizer of the day -- the National Educational Association -- and, according to the White House, the Department of Education.
It is not uncommon for a presidential proclamation to reflect the priorities of the organization that proclamation promotes. A spokesman for the National Education Association said in a 2017 interview with School Library Journal that the organization was shifting the focus from Dr. Seuss to include a diversity of authors. In that interview, the spokesman, Steven Grant, said the organization had been looking to move the focus to more diverse authors as far back as 2015. The piece outlined extensive concerns about racist overtones and images in the books.
White House Press Secretary Jen Psaki was asked about the Seuss issue during the daily press briefing on March 2, 2021:
Q: A question about Dr. Seuss, since this may be the only day that you can bring up Dr. Seuss in the briefing room. It is National Read Across America Day. It's also Dr. Seuss's birthday. Both former Presidents Obama and Trump mentioned Dr. Seuss in their Read Across America Day proclamations, but President Biden did not. Why not?

PSAKI: Well, first, the proclamation was written by the Department of Education, and you could certainly speak to them about more specifics about the drafting of it.

But Read Across America Day, which has -- you're right, has not existed forever; it has only been around for a short period of time -- elevates and celebrates a love of reading among our nation's youngest leaders. And the day is also a chance to celebrate diverse authors whose work and lived experience reflect the diversity of our country. And that's certainly what they attempted to do or hope to do this year.

And as we celebrate the love of reading and uplift diverse and representative authors, it is especially important that we ensure all children can see themselves represented and celebrated in the books that they read.

Q: So does the omission have anything to do with the controversy about the lack of diverse characters in the author's books?

PSAKI: Well, again, I think it is important that children of all backgrounds see themselves in the children's books that they read. But I would point you to the Department of Education for any more details on the writing of the proclamation.