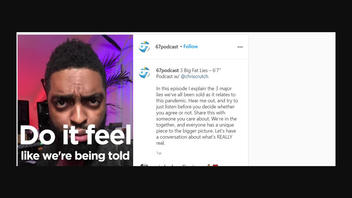 Is it true that the SARS-CoV-2 virus has not been positively identified, that the PCR test is not accurate after a certain point and that there are major ways to become ill other than through airborne transmission of the virus, such as by acute electromagnetic radiation poisoning? No, none of that is true: Virologists and other scientists have used genetic sequencing and other techniques to positively identify SARS-CoV-19, the PCR test remains accurate no matter how many "cycle thresholds" are performed and claims of so-called acute electromagnetic radiation poisoning from 5G towers have been disproven by Lead Stories when raised in other similar postings.
The latest claims appeared in a video (archived here) posted to Instagram on February 18, 2021. It was captioned: "Do it feel like we're being told the truth?"
In this episode I explain the 3 major lies we've all been sold as it relates to this pandemic ... Let's have a conversation about what's REALLY real.
This is what the post looked like on Instagram at the time of writing: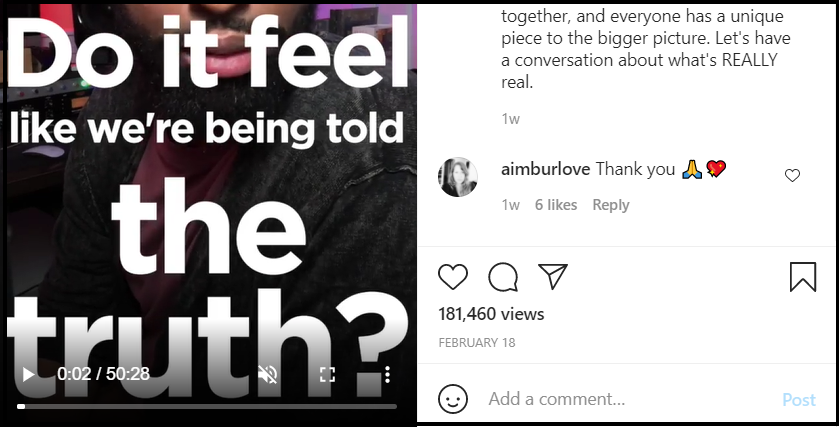 (Source: Instagram screenshot Tue Mar 2 02:44 UTC 2021)
In the 50-minute video, host Chris Crutch maintains there are three big lies about COVID-19 being perpetrated on the public:
At 3 minutes, 21 seconds he says lie No. 1 is that COVID-19 is caused by a new (novel) corona virus called SARS-CoV-2. He says that lie can be boiled down to this: "We've isolated a coronavirus strain, and it's super deadly." He counters at 4:09 that "there has not been an identified novel strain of this otherwise common virus."
At 13 minutes, 49 seconds he says lie No. 2 is that the PCR test to determine whether someone is infected with SARS-CoV-2 is the gold standard of testing. But he says at 15 minutes, 7 seconds that the PCR test becomes less accurate after a certain point in the detection process, yielding 97% to 99% false positives.
At 21 minutes, 20 seconds, he says lie No. 3 is that "The only possible way that you could ever catch COVID is to come in contact with someone who is infected with this novel coronavirus." He says that although COVID is transmissible from person to person, some of it actually is some other illness wrongly diagnosed as COVID-19, or the symptoms are self-induced from fear (a psychosomatic condition) or some of the disease is caused not by a virus but by acute electromagnetic radiation poisoning.
Scientific evidence refutes each of his assertions.
For his first conclusion about the lack of a SARS-CoV-19 virus, he says there has been no physical or observable evidence of it:
The initial projections came from computer models. In fact, this entire pandemic is driven from computer modeling, recombinant DNA technology and a bunch of other technological terms ...
First of all, yes, scientists used computers to determine that the new disease being observed in China in late 2019 was a novel coronavirus. But computers are used for nearly everything, and that does not imply that the scientists were not analyzing empirical, physical evidence plugged into their computers.
As early in the pandemic as April 24, 2020, a scientific paper by the National Center for Biotechnology Information explained how the virus was identified. The paper was titled: "The genetic sequence, origin, and diagnosis of SARS-CoV-2." The report pointed out that the analysis was based on obtaining physical evidence and then using scientific tools to examine that evidence:
Airway epithelial cells from infected patients were used to isolate a novel coronavirus, named the SARS-CoV-2, on January 12, 2020, which is the seventh member of the coronavirus family to infect humans. Phylogenetic analysis of full-length genome sequences obtained from infected patients showed that SARS-CoV-2 is similar to severe acute respiratory syndrome coronavirus (SARS-CoV) and uses the same cell entry receptor, angiotensin-converting enzyme 2 (ACE2), as SARS-CoV. ...
The paper points out that amino acid sequences were determined as well as the length of the virus' genome (genetic material) and proteins.
The information obtained from the airway epithelial cells was used to classify the new virus, the paper said:
... the Coronavirus Research Group (CSG) of the International Committee for the classification of viruses found that the new coronavirus is related to the SARS virus (SARS-CoV) that swept China in 2003. Both belong to a "species" category called severe acute respiratory syndrome-related coronavirus. Therefore, on February 11, 2020, the International Committee for the classification of viruses designated the name of this coronavirus as the severe acute respiratory syndrome coronavirus 2 (SARS-CoV-2). In addition, the World Health Organization has named the disease caused by the SARS-CoV-2 as coronavirus disease 2019 (COVID-19).
None of this was hypothetical or based purely on computer models.
The second so-called lie, according to Crutch, is that PCR tests are the gold standard of testing. He tried to disprove that by saying that PCR tests with more than 35 amplification cycles result in a 97% to 99% false positives.
Lead Stories addressed in a January 6, 2021, report why that conclusion is not correct, first explaining how PCR tests work:
The bio sample from a patient's test swab is subjected to a chemical and thermal process that replicates the genetic material in the sample. Each cycle doubles the amount of the target nucleic acid, in this case, those specific to the novel coronavirus. The number of cycles needed to detect the virus is called the cycle threshold. It indicates at what point the target nucleic acid is detectable in the amplification process. The greater the number of cycles, the higher the sensitivity of the test.

Although the correlation is not perfect, in general, the fewer cycles required, the greater the viral load. The opposite would also be true. The more cycles required, the lower the viral load and some early research suggests higher viral loads correlate to more severe symptoms. The PCR test for COVID-19 is qualitative, meaning that it only gives a yes-no answer: infected or not infected.
It is not accurate to say that a cycle threshold great than 35 results false positives, Lead Stories concluded, quoting Dr. Bobbi Pritt, chairwoman of the division of clinical microbiology at Mayo Clinic:
[I]f you have a PCR result that has a cycle threshold above 35, let's say, that doesn't mean it's wrong, it just means that the virus is present in very low levels. ... Those really high cycle threshold numbers may indicate people who are no longer infectious to others, but it doesn't mean that they don't have the virus.
The third lie Crutch claimed is based on an oft-told and just as frequently disproven assertion:
that some sick people are misdiagnosed as having COVID-19 when they are sick from some other virus, such as the flu;
that fear is leading some people to think they are sick, a psychological condition characterized as psychosomatic;
and that others are suffering from acute electronic radiation poisoning.
Misdiagnosis is possible, of course, but certainly extremely minimal because of the accuracy of PCR tests and other diagnostic tools. The same with psychosomatic cases -- possible but easily disproven by the more than 515,000 people who have died from Covid-19.
Crutch doesn't come right out and mention 5G when he talks about acute electromagnetic radiation poisoning, but he does mention the rapidly increasing number of towers built in his neighborhood and elsewhere.
Lead Stories has addressed several times the false claims about the dangers of 5G and its alleged causal relationship with COVID-19.
Most recently, Lead Stories published a Fact Check on November 2, 2020 titled: "Covid-19 Pandemic Was NOT Planned by Bill Gates And 5G Does NOT Cause It." As noted in the report, claims about 5G have been thoroughly explored and disproven in a long list of articles published by Lead Stories that found the National Institutes of Health did not admit 5G can cause coronavirus, that 5G does not alter red blood cells, and is not linked to bird deaths. Those fact-checks can be found at LeadStories.com