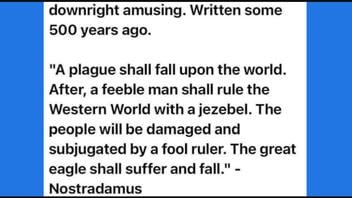 Did the 16th century French astrologer Nostradamus write a quatrain that made a prediction there would be a plague and that afterward, "a feeble man would rule the Western World with a jezebel"? No, that's not true: There is no record of a prediction by Nostradamus that contains this collection of particular elements.
One recent edition of the claim appears in a post (archived here) published on March 28, 2021. The text reads:
downright amusing. Written some 500 years ago.

"A plague shall fall upon the world.
After, a feeble man shall rule the Western World with a jezebel.
The people will be damaged and subjugated by a fool ruler.
The great eagle shall suffer and fall."

-Nostradamus
This is what the post looked like on Facebook at the time of writing: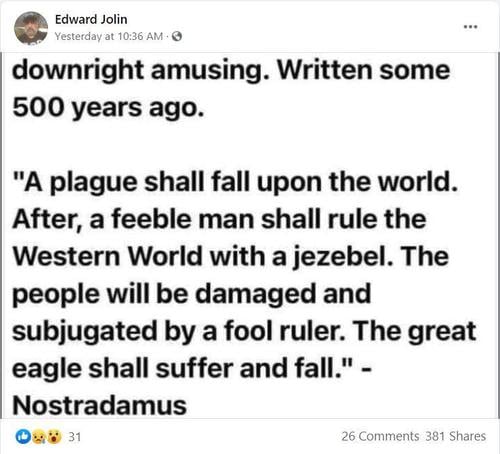 (Source: Facebook screenshot taken on Mon Mar 29 23:08:06 2021 UTC)
Nostradamus wrote his predictions as four-line poems, called quatrains. These verses were grouped in collections of 100, called a century. In the original French, his poems rhyme, while the translations in English typically don't. The quote attributed to Nostradamus was written as a quatrain, mimicking the writing style of the French astrologer but the meme layout disrupted the traditional arrangement of a Nostradamus poem.
The first instances of this quote appear in social media posts in mid-November 2020, just after the United States presidential election. This example was posted on Facebook November 16, 2020. The meme did not begin to gather attention until early 2021. Snopes published a debunk on January 19, 2021.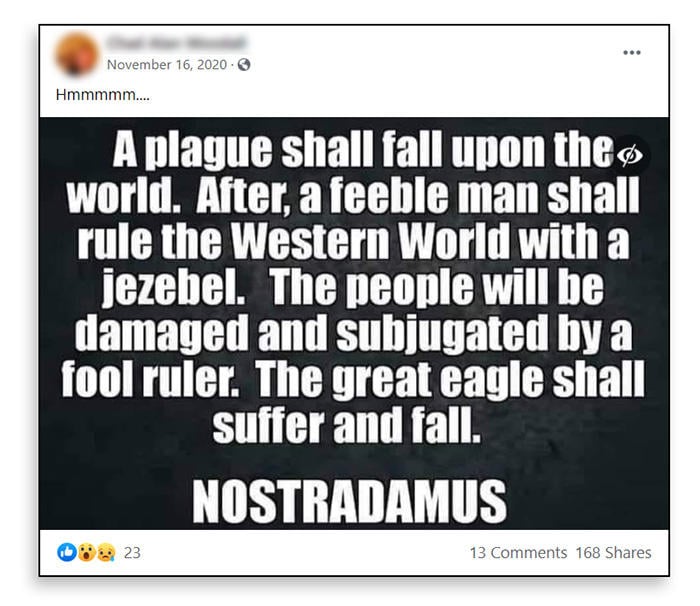 (Source: Facebook screenshot taken on Mon Mar 29 20:22:40 2021 UTC)
Lead Stories searched the text of "The Complete Works of Nostradamus" for the word 'eagle" in both English and in French, 'aigle'. None of the results for these search terms found a verse that remotely conveyed the meaning, "The great eagle shall suffer and fall,' or contained any of the other elements of this purported Nostradamus quatrain. With one exception, the eighteen translated quatrains containing the word "eagle" are paired with an original French verse containing the word 'aigle.' The one instance that diverged, (in Century 5 Quatrain 99), used the word "aquilee" also meaning eagle or eagle-like, but perhaps referring to the ancient Roman city Aquileia.
XCIX.
Milan, Ferrare, Turin, & Aquilleye,
Capue, Brundis vexez per geut Celtique:
Par le Lyon & phalange aquilee
Quant Rome aura le chef vieux Britannique.

Milan, Ferrara, Turin and Aquileia,
Capua, Brindisi vexed by the Celtic nation:
By the Lion and his eagles's phalanx,
When the old British chief Rome will have.
Lead Stories also conducted a search engine test to see how well search engines recognized randomly chosen lines of authentic Nostradamus text as well as lines of translated authentic text. Both Google and DuckDuckGo results for single lines of randomly chosen authentic Nostradamus verses identified the author multiple times.
But when queried with the text in question, "After, a feeble man shall rule the Western World with a jezebel" the search engines (here and here) did not. Instead, they only returned fact checks, articles pointing to a hoax, and a few recent social media posts repeating that hoax.
This hoax text appears to have written recently and does not date back to the 16th century.