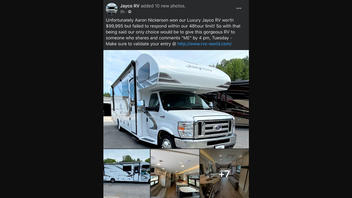 Did someone win a luxury RV or car, b‪u‪t‪ fa‪i‪l‪ ‪to ‪r‪e‪spond w‪i‪thin ‪the 48-‪hour ‪‪l‪i‪mit, so now the vehicle will be given to someone who shares a Facebook post about it? No, that's not true: This is a scam apparently created by someone in Pakistan posing as a real company in the United States and targeting unsuspecting American social media users to generate traffic to a questionable website.
The claim has appeared in several versions, including in a post (archived here) shared on Facebook on March 30, 2021 featuring a photo of a recreational vehicle and text that read:
Un‪fort‪unate‪ly Helyn Mallone w‪‪o‪n o‪‪ur Luxury RV ‪wo‪r‪t‪h $99,995 b‪u‪t‪ fa‪i‪l‪ed ‪to ‪r‪e‪spond w‪i‪thin ‪our 48‪hour ‪‪l‪i‪mit‪!‪ ‪So‪ ‪w‪ith tha‪t‪ ‪b‪e‪ing s‪‪aid o‪‪ur on‪l‪y ch‪o‪ice wou‪‪ld be‪ to‪ g‪i‪v‪e thi‪‪s go‪‪rge‪ous RV‪ ‪t‪o‪ ‪someone ‪who‪ ‪‪s‪h‪a‪r‪e‪s an‪‪‪d co‪m‪m‪e‪nts ‪"M‪E‪‪‪"‪ b‪y 4 p‪m, Tuesday - Make sure to validate your entry @ http://www.rvs-world.com/
This is what the post looked like on Facebook at the time of writing: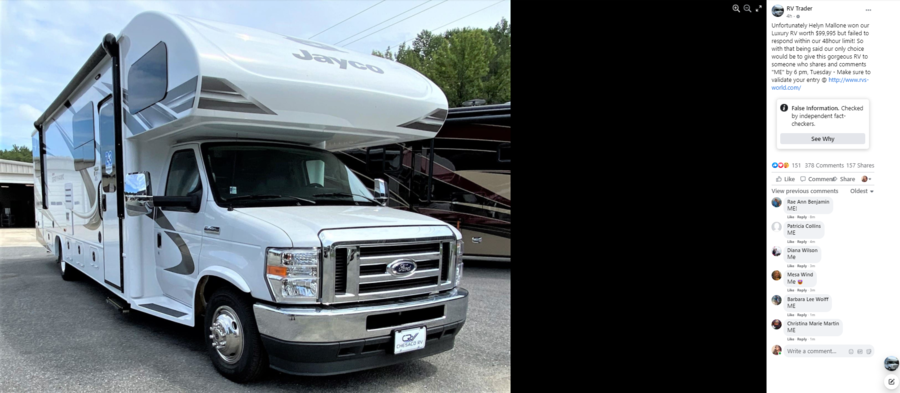 (Source: Facebook screenshot taken on Tue Mar 30 17:50:35 2021 UTC)
The claim that a valuable contest prize is up for grabs because someone else failed to claim it by a deadline has been used for years on social media to entice people to click a website URL. The only thing you might get for clicking is potential identity theft or a computer virus. In the case of the unclaimed RV, the trail leads to a recently-registered website with a "validate" button. Click that and you get to a page that asks you to fill out a "short survey." We caution you against clicking the "accept" button or filling out the survey.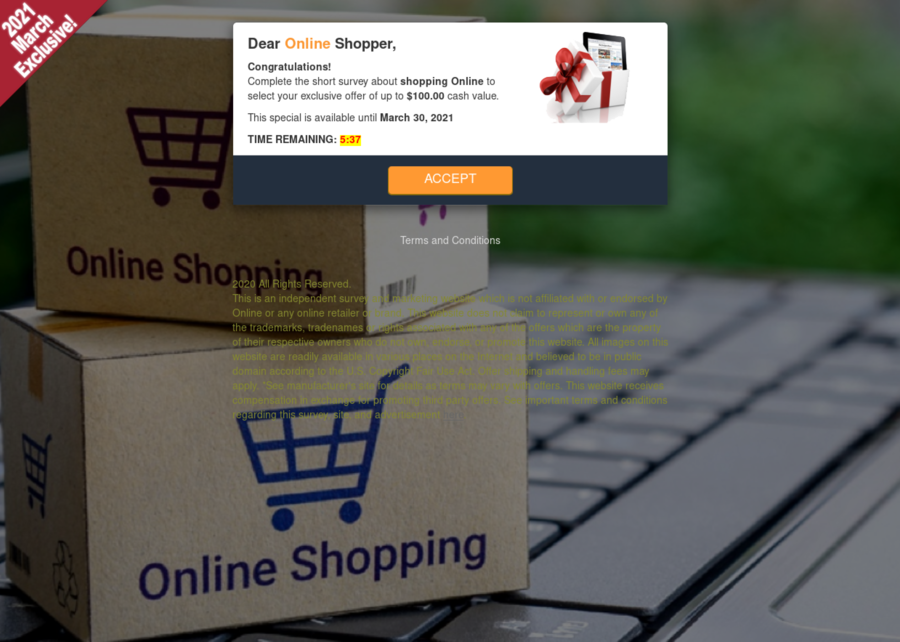 How do we know it is not real? First, the Facebook page claims to be "RV Trader" and was created just three days earlier. The real RV Trader page, which is associated with RVTrader.com and verified by Facebook, was created in 2009. That page does not carry the same promotion.
Another version on a page created just one day earlier also claims to be associated with Jayco RV's, a real RV company. It links to the same questionable website. Jayco's social media pages do not include the promotion.
Lead Stories reached out to both companies. Jayco replied, making it clear they are not giving away the RV:
We are not running a giveaway for any Jayco RV.

We have taken the necessary steps to report the page(s) responsible for the misleading giveaways. If we ever do run any official Jayco sales event or giveaway, it will be promoted through our official @JaycoRVs Facebook page, indicated by a blue verification badge.

In addition, we would never ask for your personal information, under no circumstance should you provide your personal information to anyone.
Another version uses identical language, but uses a Chevy SUV instead of an RV as bait.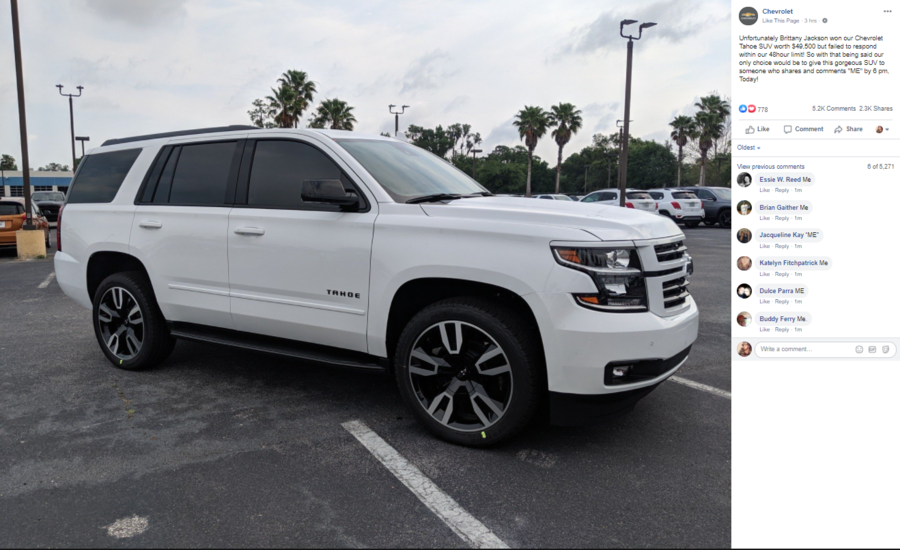 How do we know the scam is based in Pakistan? The metadata provided by Facebook to its fact checking partners revealed the likely country of origin.