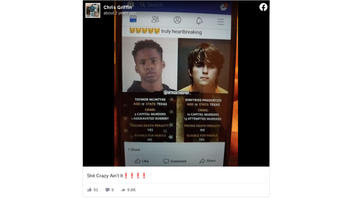 Are juveniles under the age of 18 eligible for the death penalty? No, that's not true: Neither of the teenage Texas killers in the meme can be executed. A 2005 U.S. Supreme Court ruling held it is unconstitutional to put to death those convicted of a crime committed while they were under the age of 18. The meme's claim - that a black teen-aged killer faces execution while a white teen-aged mass killer does not - is both false and legally impossible. The white offender, Dimitrios Pagourtzis, who killed 10 at Santa Fe High School, is not facing the death penalty. Neither is Taymor McIntyre, a Black offender, convicted of murdering a man during a home invasion.
The claim appeared in a Facebook post (archived here) published on February 26, 2019 and recirculating in 2021. The meme is captioned "Truly heartbreaking" and side-by-side compares the purported facts of both cases, reading:
FACING DEATH PENALTY: YES FACING DEATH PENALTY: NO
This is what the post looked like on Facebook at the time of writing:
(Source: Facebook screenshot taken on Fri Mar 5 15:24:20 2021 UTC)
The post is false on its face because offenders under the age of 18, in the United States, are not eligible for the death penalty. In a 5-4 decision in 2005, the Supreme Court ruled in Roper v. Simmons that it was unconstitutional. Writing for the majority, Justice Anthony Kennedy wrote:
When a juvenile offender commits a heinous crime, the State can exact forfeiture of some of the most basic liberties, but the State cannot extinguish his life and his potential to attain a mature understanding of his own humanity.
The two Texas teenagers mentioned in the post committed crimes while under the age of after 18, making them ineligible for the death penalty.
McIntyre, also known as the rapper Tay-K, was found guilty of murder in 2019 for his part in a 2016 home invasion that left 21-year-old Ethan Walker dead. He was reportedly sentenced to 55 years behind bars. He also pleaded guilty to two counts of aggravated robbery and was found guilty on a third. In a separate case, McIntyre has been indicted for capital murder in the shooting death of 23-year-old Mark Saldivar, who authorities say McIntyre killed while on the run.
Pagourtzis is accused of opening fire at Santa Fe High School in May 2018, killing 10 people and injuring 13 more. According to police, he confessed. In February 2021, local media reported that Pagourtzis will remain in a mental health facility for another 12 months. He has been at the North Texas State Hospital since December 2019.
As a final point about the post, it's worth mentioning that Texas eliminated life sentences without parole in 2013 for juvenile offenders. You can read the law here. It mandates that juveniles convicted of capital felonies are subject to life sentences with the possibility of parole after 40 years.