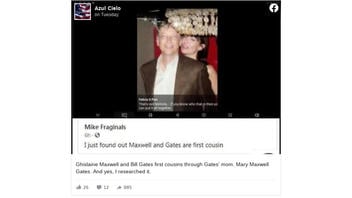 Are Ghislaine Maxwell and Bill Gates first cousins through Gates' mom, Mary Maxwell Gates? No, that's not true. Public records show multi-billionaire Gates is not related to the woman arrested in October of 2020 for luring young women Jeffery Epstein then sexually abused. For Bill Gates and Ghislaine Maxwell to be first cousins sharing Bill's mother's maiden name, Maxwell would need to be the child of Bill Gates' maternal uncle. But Gates' mother, Mary Maxwell Gates was an only child, according to her father's obituary.
The claim appeared as a post (archived here) where it was published on Facebook on March 2, 2021. It opened:
Ghislaine Maxwell and Bill Gates first cousins through Gates' mom. Mary Maxwell Gates. And yes, I researched it.
This is what the post looked like on Facebook at the time of writing:
(Source: Facebook screenshot taken on Thu Mar 4 19:53:47 2021 UTC)
Ghislaine Maxwell's father, Robert Maxwell, was born in Czechoslovakia and his birth name was Ludvik Hock, not Maxwell, according to his obituary published in the New York Times in 1991. He is not the brother of, and has no actual relation to, Mary Maxwell Gates, whose father, James Williard Maxwell Jr. was born in Lincoln, Nebraska.The post includes a photograph of Gates with an unnamed woman and with the caption, "That's not Melinda... if you know who it is then you can put it all together."
Melinda refers to Bill Gates' wife, whom he married in 1994.
The photograph was first published in 2008 by the French site Pure People and noted the woman was unidentified. The article claimed:
On November 22, Bill partied in a nightclub in Goteborg (Sweden). This evening precedes the wedding of his friend, the American billionaire Charles Simonyi, 60, with Lisa Persdotter ... 28 years old."
The woman in the photograph is not identified. There is no evidence that the woman in the photo is Ghislaine Maxwell.
Mary Maxwell's obituary published in the New York Times noted her father was born in Nebraska, as his own obituary also noted.
The New York Times detailed Robert Maxwell's birth place and real name in his 1991 obituary.
This complex figure who sought and cultivated political and government connections in the Soviet Union, Eastern Europe and Israel as well as in the United States, was born on June 10, 1923, into a Hasidic family called Hoch in the Ruthenian village of Slatinske Doly, then part of Czechoslovakia and now in the Soviet Union, and was given the name Ludvik. He was selling trinkets on the streets of Bratislava in March 1939 when Hitler's allies in Hungary occupied his homeland as the Nazis marched into western Czechoslovakia."
The article also notes:
He also acquired his name, Ian Robert Maxwell, at the suggestion of a Scottish officer friend.
There are no publicly available documents that support the claim of family ties between Bill Gates and Ghislaine Maxwell.