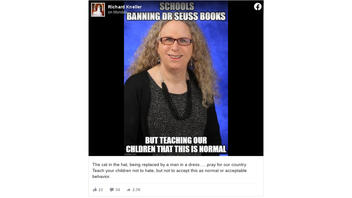 Did schools ban Dr. Seuss books? No, that's not true: Lead Stories has not found any recent reports of schools which have banned all Dr. Seuss books in the wake of Seuss Enterprises' decision to cancel six titles of dozens because of "hurtful" images. In early March 2021 there were rumors circulating that Dr, Seuss was being 'cancelled', more specifically, that the Loudoun County, Virginia school district had banned Dr. Seuss books. The confusion about this is two-pronged. One aspect has to do with "Read Across America Day" on March 2, which is also the birthday of Theodor Seuss Geisel - 'Dr. Seuss,' and the decision by Loudon County Public Schools to move the focus of 'Read Across America Day' away from Dr. Seuss' birthday. This is because a contract expired between the Reading Day sponsor, The National Education Association, and Dr. Seuss Enterprises, owner of the Seuss copyrights. The other source of confusion has to do with a decision made a year ago by Dr. Seuss Enterprises to cease publishing six of the titles by Geisel. Neither of these decisions were an effort by schools to ban Dr. Seuss books.
One meme making this claim appears in a post (archived here) published on Facebook on March 1, 2021 with the caption, "The cat in the hat, being replaced by a man in a dress......pray for our country. Teach your children not to hate, but not to accept this as normal or acceptable behavior". The meme features a photo of Dr. Rachel Levine, the transgender woman nominated by President Biden for assistant health secretary. The text reads:
Schools banning Dr. Seuss books
But teaching our children that this is normal
This is what the post looked like on Facebook at the time of writing:
(Source: Facebook screenshot taken on Fri Mar 5 14:44:05 2021 UTC)
On February 26, 2021 TheDailyWire.com published an article titled, "Oh The Places The Woke Will Go: Dr. Seuss Canceled For 'Racial Undertones' " February 27, 2021 Foxnews.com published an article with the headline, "Virginia school system cancels Dr. Seuss, citing racial 'undertones' in writings: report" and Breitbart.com published the article, "Virginia School System Bans Dr. Seuss Books from Read Across America Program over 'Strong Racial Undertones'" on March 1, 2021.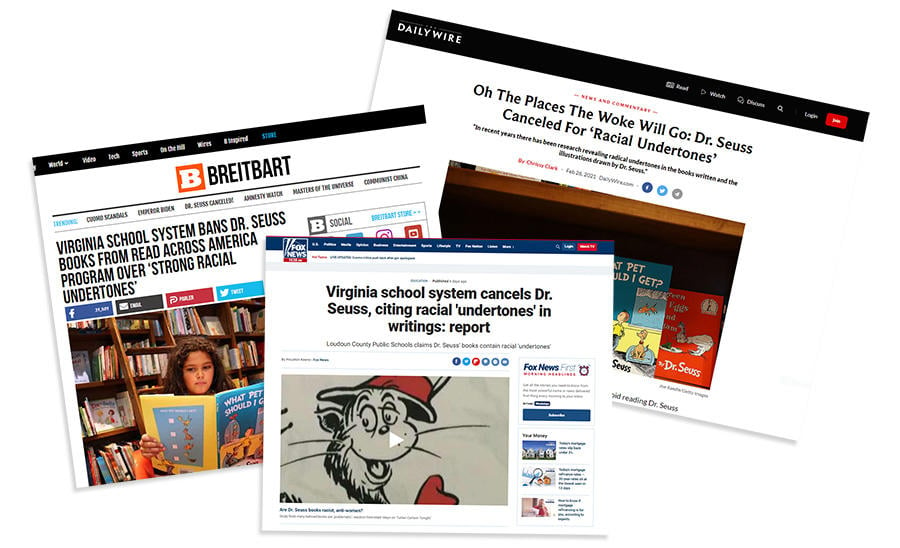 (Source: Screenshots taken on Fri Mar 5 16:11 2021 UTC)
Below is a collection of memes featuring a similar theme which were posted on Facebook in Early March 2021.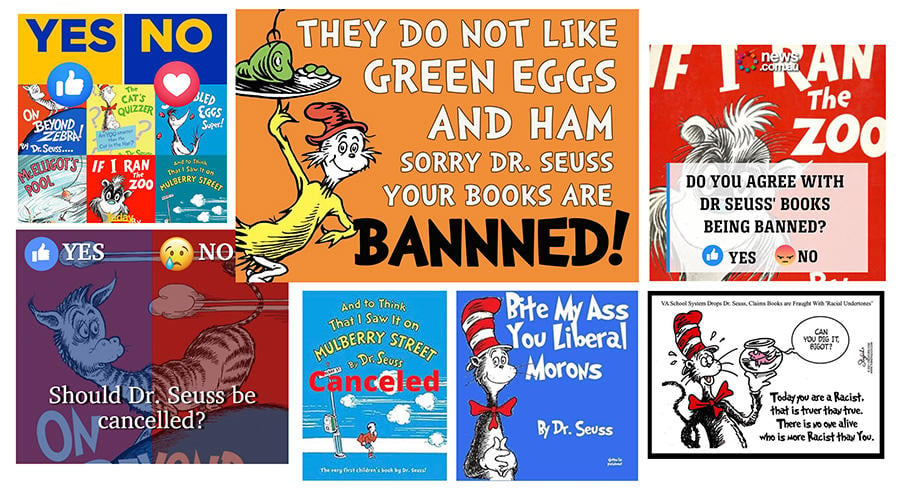 (Source: Facebook Screenshots taken on Fri Mar 5 17:29 2021 UTC)
But Dr. Seuss has not been cancelled nor his books banned.
The owner of Dr. Seuss' copyrights decided in 2020, after consultation with a panel of experts, that six of the popular children's author's books contained images hurtful to people and will no longer license them for publication.
'Read Across America Day' was started in 1997 and is sponsored by the National Education Association. In a 2017 article in the School Library Journal explained that the 20-year anniversary of the NEA's 'Read Across America' program was also the end of the NEA's contract with Seuss Enterprises. The NEA spokesperson, Steven Grant, was quoted:
This is really going to be a transitional year for us. We're going to be trying different things and moving in some different directions to see if that works.
In recent years the NEA has been working to ensure that all children saw themselves represented in children's books. Internet archive copies of the National Education Association website reveal how heavily intertwined the 'Read Across America' program was with the Seuss branding in the past. (2015, 2016, 2017 and how the website appears now (archived here) The licensing agreement between the NEA and Dr. Seuss Enterprises ended on August 31,2019. The NEA issued a statement on their website about their new logos for 2020-2021.
Effective August 31, 2019, NEA will no longer have a licensing agreement with Dr. Seuss Enterprises. After August 31, NEA Affiliates and members may no longer use the old Read Across America logo with the Cat in the Hat leaning over U.S. map.
It is unclear why the Loudoun County Virginia public schools were singled out over the change in focus of 'Read Across America Day'. There is a clear directive from the NEA that the Read Across America was no longer connected with Dr. Seuss Enterprises. The school district on February 27, 2021 issued this statement:
During the past 24 hours, a media rumor is circulating that Loudoun County Public Schools (LCPS) has banned books written by Theodor Seuss Geisel (Dr. Seuss).

Dr. Seuss books have not been banned in Loudoun County Public Schools (LCPS). LCPS believes this rumor started because March 2 is "Read Across America Day." Schools in LCPS, and across the country, have historically connected Read Across America Day with Dr. Seuss' birthday. Research in recent years has revealed strong racial undertones in many books written/illustrated by Dr. Seuss. Examples include anti-Japanese American political cartoons and cartoons depicting African Americans for sale captioned with offensive language. Given this research, and LCPS' focus on equity and culturally responsive instruction, LCPS provided this guidance to schools during the past couple of years to not connect Read Across America Day exclusively with Dr. Seuss' birthday. We continue to encourage our young readers to read all types of books that are inclusive, diverse and reflective of our student community, not simply celebrate Dr. Seuss. Dr. Seuss books have not been banned and are available to students in our libraries and classrooms, however, Dr. Seuss and his books are no longer the emphasis of Read Across America Day in Loudoun County Public Schools.
A few days later, on March 2, 2021, Seuss Enterprises announced it would no longer be selling six Dr. Seuss books:
Today, on Dr. Seuss's Birthday, Dr. Seuss Enterprises celebrates reading and also our mission of supporting all children and families with messages of hope, inspiration, inclusion, and friendship.

We are committed to action. To that end, Dr. Seuss Enterprises, working with a panel of experts, including educators, reviewed our catalog of titles and made the decision last year to cease publication and licensing of the following titles: And to Think That I Saw It on Mulberry Street, If I Ran the Zoo, McElligot's Pool, On Beyond Zebra!, Scrambled Eggs Super!, and The Cat's Quizzer. These books portray people in ways that are hurtful and wrong.

Ceasing sales of these books is only part of our commitment and our broader plan to ensure Dr. Seuss Enterprises's catalog represents and supports all communities and families.
Lead Stories March 2021 wrote about how President Joe Biden was accused of 'cancelling' Dr. Seuss by omitting mention of him in a Presidential Proclamation about 'Read Across America Day', an event at which both of Biden's successors had steered young readers to Seuss' books.
In the ensuing controversy, Seuss fans and cultural critics have made several false claims that schools and libraries are "banning" or "cancelling" Dr. Seuss and/or his second-best-selling title, "The Cat in the Hat."
Lead Stories reached out to the American Library Association by email to inquire if staff were aware of any libraries banning Dr. Seuss books. The ALA Office for Intellectual Freedom only has anecdotal reports at this time pulled from social and media reports. On Facebook and Twitter, some libraries are posting about choosing to remove the six Seuss books, while there are other social media posts from librarians who are retaining the books in their collections. In Thunder Bay, Ontario, Canada, for instance, the public library was pulling the six books in question in order to review them against the library policy. The other article from wavy.com reports that local public libraries in Portsmouth, Virginia, have begun the process of removing the six titles from circulation.
Lead Stories uncovered one instance of a Dr. Seuss book nearly being banned by a school more than thirty years ago. The town of Laytonville, California was split over what to do about the book, "The Lorax", a book which could be perceived as anti-logging, on the second grade required reading list. The Los Angeles Times reported on September 14, 1989, "Turning Grinch-Like on Dr. Seuss : Town's Loggers Want 'The Lorax' Axed". On October 7th, a follow-up reported the school board unanimously voted to keep "The Lorax" in its library and on the required reading list.