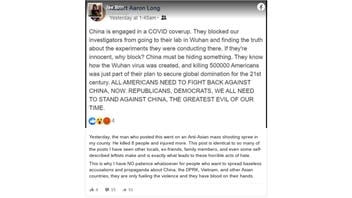 Did Robert Aaron Long, the suspect taken into custody after a string of shootings at massage parlors in the Atlanta area, make this anti-China post on Facebook before the deadly March 16, 2021 shootings? No, that's not true: This screenshot is a manufactured hoax.
The exact origins of the screenshot hoax are unknown, but an early version appeared as a post (archived here) where it was published to Facebook on March 17, 2021, at 3:43 a.m., just hours after the deadly shootings. The post was captioned:
Yesterday, the man who posted this went on an Anti-Asian mass shooting spree in my county. He killed 8 people and injured more. This post is identical to so many of the posts I have seen other locals, ex-friends, family members, and even some self-described leftists make and is exactly what leads to these horrible acts of hate.

This is why I have NO patience whatsoever for people who want to spread baseless accusations and propaganda about China, the DPRK, Vietnam, and other Asian countries, they are only fueling the violence and they have blood on their hands.
The text of the screenshot image reads:
Robert Aaron Long
Yesterday at 1:45am

China is engaged in a COVID coverup. They blocked our investigators from going to their lab in Wuhan and finding the truth about the experiments they were conducting there. If they're innocent, why block? China must be hiding something. They know how the Wuhan virus was created, and killing 500000 Americans was just part of their plan to secure global domination for the 21st century. ALL AMERICANS NEED TO FIGHT BACK AGAINST CHINA, NOW. REPUBLICANS, DEMOCRATS, WE ALL NEED TO STAND AGAINST CHINA, THE GREATEST EVIL OF OUR TIME.
This is what the post looked like on Facebook at the time of writing:
(Source: Facebook screenshot taken on Wed Mar 17 17:59:46 2021 UTC)
The clearest indicator that this is not a recent post from an authentic Facebook account is that the type color of the profile name is blue. Currently profile names have black lettering. Another questionable aspect of this profile, visible in the zoomed-in view below, is that the circular photo is not aligned inside the grey border. This is not as apparent in the Facebook post as a higher resolution copy of the screenshot which appeared in a post on Twitter.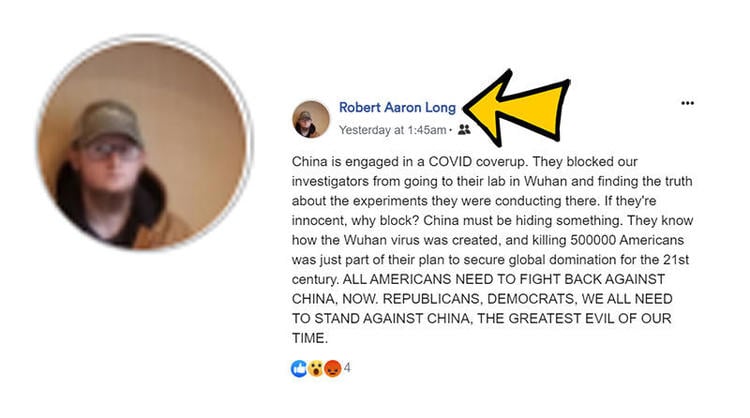 Lead Stories found an example of a fake Facebook post generator website that was still using the old style of blue letters for the profile name. This website does not generate an exact match to the screenshot in the post, but is an example of an available free tool to make a fake post. Most of the elements visible in a typical post format were customizable, name, profile picture, message, time, the name of a person liking. The website describes its service this way:
Create Fake Facebook Post Online
Fake Facebook Post Generator used by celebrities and media to make a fake facebook post. Create your own fake facebook post using our Facebook Post Generator and prank your friends. Create most viral fake facebook posts with our Fake Facebook Account Creator. Lets get started and create fake facebook post that will amaze everyone and increase the engagement of your facebook.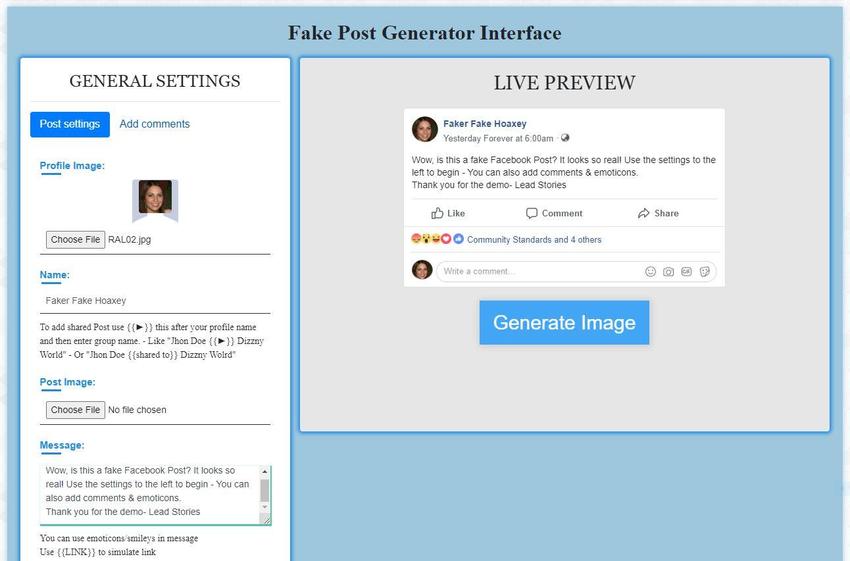 A post on Twitter by @PuddingVladdy (archived here) states that Robert Aaron Long lived in Marjorie Taylor Greene's Congressional district. This is not true. Georgia's 14th congressional district is represented by Greene, while Long is from Woodstock, Georgia, which is in the 11th congressional district.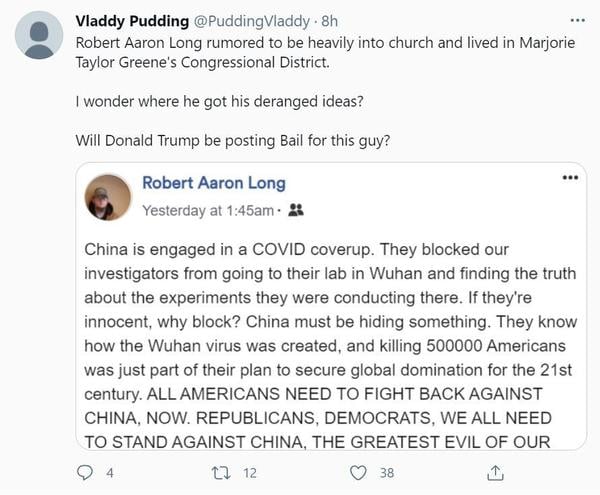 (Source: Twitter screenshot taken on Wed Mar 17 18:15:46 2021 UTC)

Lead Stories reached out to Facebook's PR contact for comment. The Facebook company spokesperson replied:
We've confirmed that these screenshots are fake and we're removing them from the platform for violating our policies.
(Editors' Note: Facebook is a client of Lead Stories, which is a third-party fact checker for the social media platform. On our About page, you will find the following information:
Since February 2019 we have been actively part of Facebook's partnership with third party fact checkers. Under the terms of this partnership we get access to listings of content that has been flagged as potentially false by Facebook's systems or its users and we can decide independently if we want to fact check it or not. In addition to this we can enter our fact checks into a tool provided by Facebook and Facebook then uses our data to help slow down the spread of false information on its platform. Facebook pays us to perform this service for them but they have no say or influence over what we fact check or what our conclusions are, nor do they want to.)