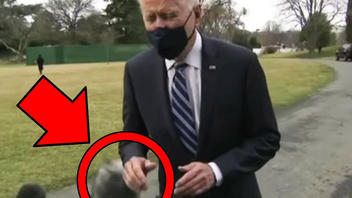 Does this video show a "green screen fail" that proves Joe Biden was deceptively edited into video of a quick exchange with reporters at the White House? No, that's not true. The 46th president was live and in person at the presidential home in Washington, D.C., March 16, 2021, and multiple news outlets independently published reports of his exchange with reporters as he departed from the White House. Videos and photographs from the event document it. Faking such an event in leak-prone Washington, D.C. and keeping it secret is an extraordinary claim that requires extraordinary proof not provided by this video.
The claim appeared as a video (archived here) where it was published on YouTube by the account John Talks on March 17, 2021 under the title "Joe Biden Green Screen Fail?" It opened with natural sound and a reporter asking:
Mr. President, do you have any plans to travel to the Southern Border, sir?
Click below to watch the video on YouTube:

The 32-second video shows Biden walking up to a group of reporters with only microphones visible in the lower portion of the video. A screengrab from the video focuses on Biden's hand and a boom mic with a fuzzy wind screen. The video repeats several times, and in slow motion, the few seconds when Biden's hand moves between the boom mic and the camera. The implication in the post's title and technique is that the scene involved use of a "green screen," the single-color blank background used in video editing to insert video of any scenery behind the action.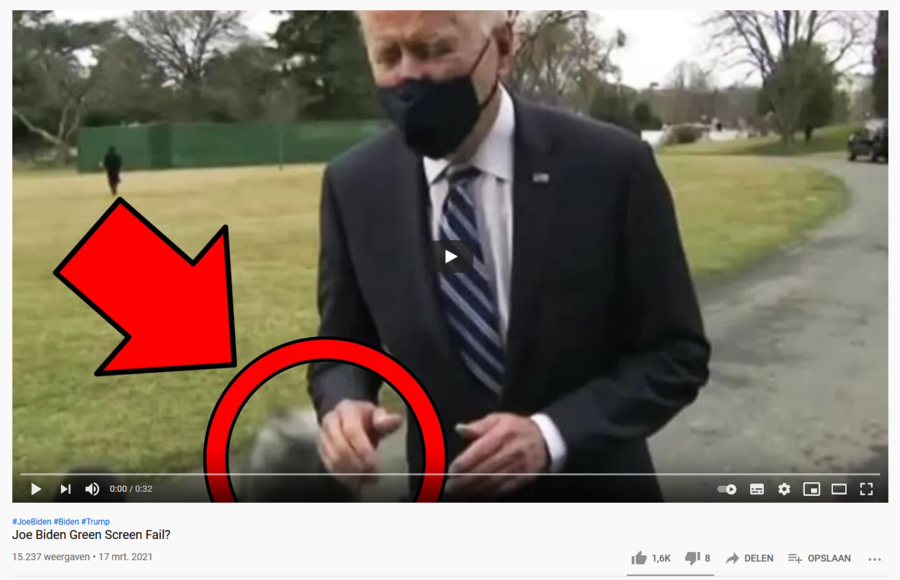 There were national news outlets, including C-SPAN, that published images and videos from the scene showing clearly and from multiple angles the encounter between Biden and reporters at the White House.
The C-SPAN video of Biden approaching the group shows his hand does not go through the microphone but simply moves between the microphone and the camera.
Getty Images, a photo agency, offered this photo of Biden, shot from another angle. The microphone and the president are all in the shot.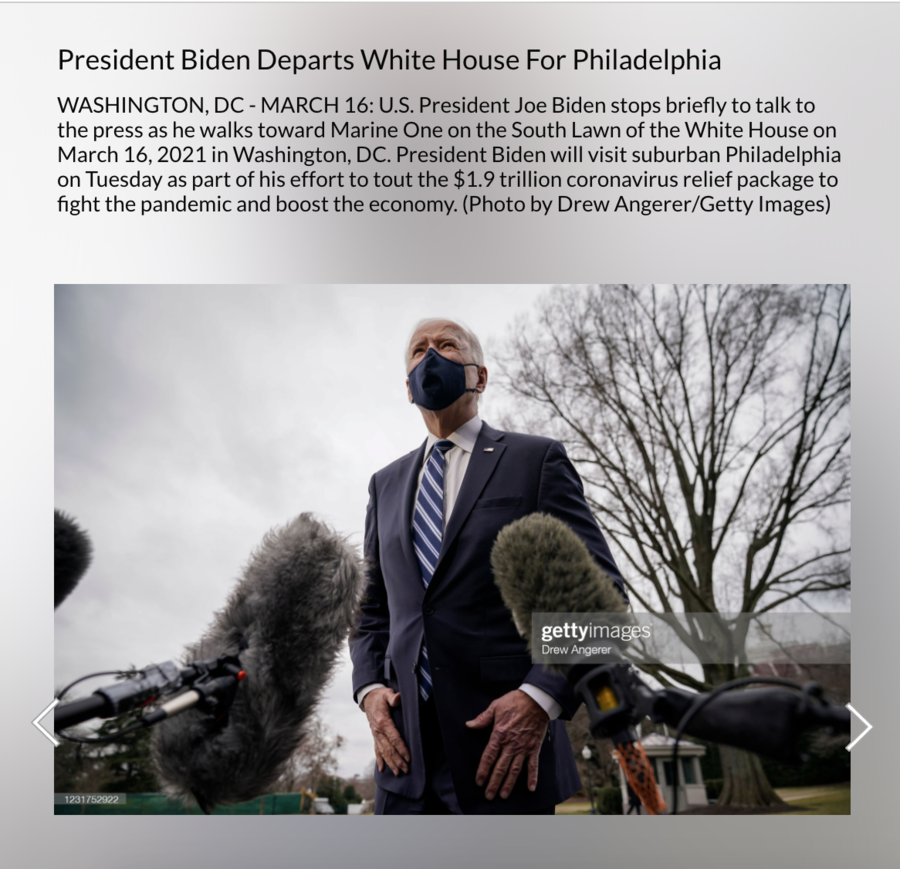 (Source: gettyimages.com screenshot taken Tue Mar 17 70:46:28 UTC 2021)
Biden's appearance at the White House was covered by Fox News and several other news organizations reporting on his brief exchange with reporters.
The Washington Times also published an article with an Associated Press photograph of Biden with the microphones. The caption read:
Photo by: Patrick Semansky
President Joe Biden speaks to members of the press on the South Lawn of the White House in Washington, Tuesday, March 16, 2021, before boarding Marine One for a short trip to Andrews Air Force Base, Md. Biden is en route to Pennsylvania. (AP Photo/Patrick Semansky)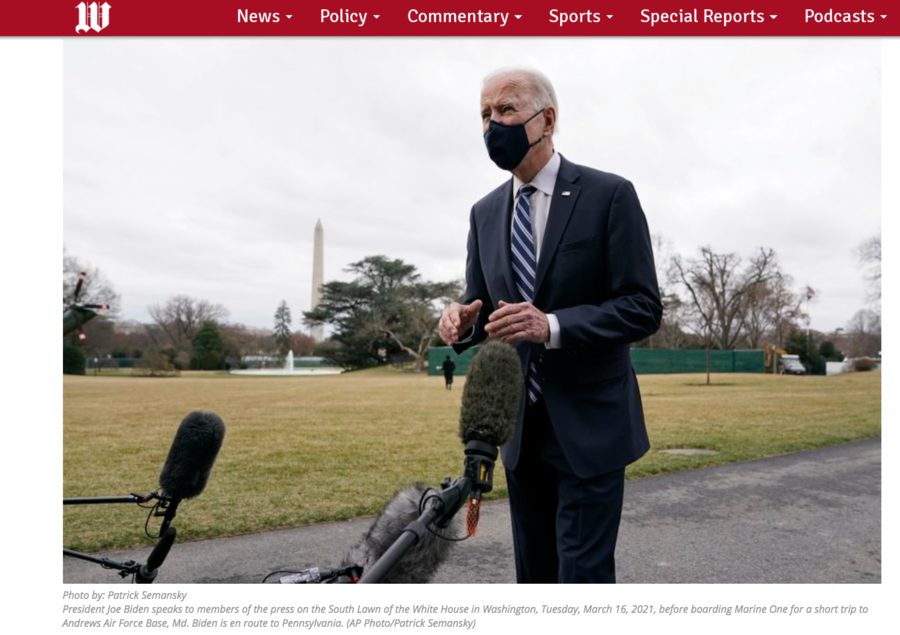 (Source: washingtontimes.com screenshot taken Tue Mar 17 21:21:33 UTC 2021)
The Associated Press had photographs of Biden with the microphone from different angles.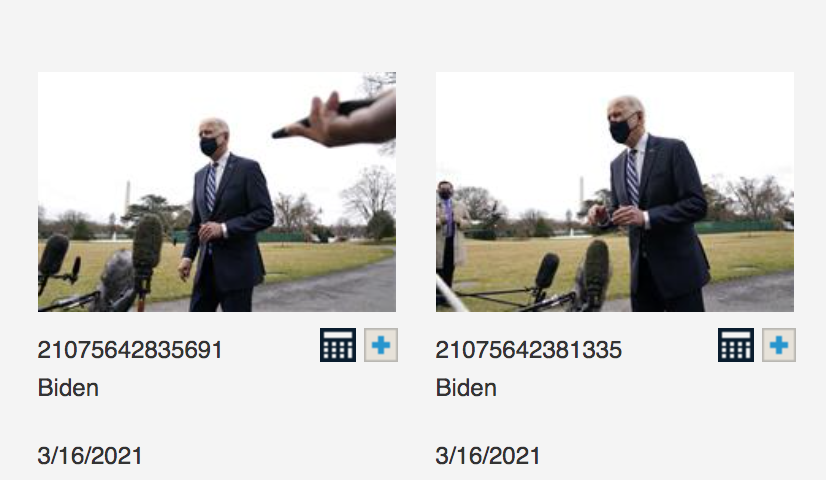 (Source: AP.com screenshot taken Tue Mar 17 21:19:50 UTC 2021)
A video posted by Mick West, a self-described debunker, skeptic, writer, and former video game programmer, on YouTube on March 17, 2021 titled, "Explained: Why This Video of Biden and a Dead Cat Looks Fake, but Isn't," says:
A video of Biden talking to reporters from March 16, 2021 has several very large microphones bobbing around at the bottom of the frame. Because the large grey microphone (which has a wind cover on it called a "dead cat") is bigger than you expect, people think that Biden's hand is superimposed on top of it.

It isn't. It's just a large fuzzy microphone that's behind his hand. I explain this in the video with recreation in my backyard, and also explain why the black microphone appears in front in some shots and behind in others (spoiler, it's because it is)."
Lead Stories has debunked multiple conspiracy theories that Biden is not the real president, which is the implied claim of recent posts that say Biden is being photoshopped into presidential offices and backgrounds.