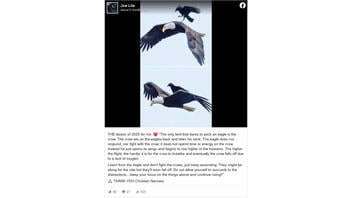 Is the crow the only bird who dares to peck an eagle, and does the eagle rid itself of a pesky crow by flying to an altitude lacking in oxygen? No, that's not true: Many bird species, including crows, engage in mobbing behavior against birds of prey much larger than themselves, including eagles. This mobbing can be to defend territory, food or young. Some photographers have captured images of other birds, as well as crows, who appear to be riding on the back of an eagle. The ride captured in this photo lasted mere seconds according to the photographer Phoo Chan.
The story appears to originate from a post (archived here) where it was published on Facebook on October 10, 2020. It opened:
THE lesson of 2020 for me.

"The only bird that dares to peck an eagle is the crow. The crow sits on the eagles back and bites his neck. The eagle does not respond, nor fight with the crow; it does not spend time or energy on the crow instead he just opens its wings and begins to rise higher in the heavens. The higher the flight, the harder it is for the crow to breathe and eventually the crow falls off due to a lack of oxygen.
This is what the post looked like on Facebook at the time of writing:
(Source: Facebook screenshot taken on Tue Mar 9 20:45:35 2021 UTC)
The fanciful and unscientific story about these two birds, the eagle and the crow, finishes with a lesson, in the form of an allegory:
Learn from the eagle and don't fight the crows, just keep ascending. They might be along for the ride but they'll soon fall off. Do not allow yourself to succumb to the distractions....keep your focus on the things above and continue rising!!"
This photo of a crow standing on an eagle's back was captured by bird photographer Phoo Chan in Seabeck, Washington. The series of photos of the crow and the eagle was featured in Dailymail.co.uk on June 30, 2015. According to the caption on one photo, Chan said this encounter only lasted a few moments.
Lead Stories reached out by email to a spokesperson from The Audubon Society to ask about the photos, and the claims made in this Facebook post. The Audubon spokesperson explained that many birds will attack (or mob) eagles and other smaller birds of prey. Crows go after ravens, blackbirds and kingbirds go after crows, and on down the line. Also, any roosting raptor (owl, hawk, eagle, etc.) is at the mercy of all smaller birds -- chickadees, titmice, kinglets, and warblers -- that will mob anything they detect in their territories. Common ravens also do this regularly. A squadron of common ravens can be seen "escorting" the migrating bald eagle away from their favorite ridge. Blackbirds have been seen leaving the reeds of a marsh, flying up to escort an eagle or other raptor away, even if the bird of prey was already going that direction.
As for the question of high flying, the spokesperson explained that eagles do fly high to get away from the mobbing smaller birds but this is not in a bid to deprive them of oxygen. Once an eagle (or raptor) is high enough, it's no longer perceived as a threat to the smaller birds. Usually crows or smaller birds won't follow the eagles up too high, as bigger birds fly faster than the little passerines. Eagles do often fly much higher than crows. Raptors chasing raptors can attain great heights.
On April 27, 2015, theguardian.com published a photo from Rome, Italy, featuring a trained eagle named "Olimpia," mascot of the Lazio soccer team, as a crow attacked the eagle before a match. The eagle is pictured soaring, trailing its leather jesses and blue ribbons of the team color, with a crow seeming to be ready to alight between the eagle's wings.
Several wildlife photographers have been able to capture a mobbing bird momentarily paused with its feet on the back of an eagle. Bill Combs Jr. caught the moment a red-winged blackbird touched down on a bald eagle at the Cobleskill Reservoir in New York state. He shared the pictures on his Facebook page "Schoharie County Photos" in July of 2020.
Now here is something you don't see every day (never). An American Bald Eagle flying over the water with a fish it just caught and a Red-winged Blackbird taking a short ride a ride on the Eagle's back.

Posted by Schoharie County Photos on Thursday, July 9, 2020
Jason McCarty captured a scene with a red-winged blackbird mobbing an eagle twice, first in 2019 it was a female bald eagle, "Janice," and the following year one of her newly fledged young, "Helen," got the blackbird treatment. McCarty talked about catching the amazing "Eagle Uber" photo on a local Minneapolis news segment for KARE 11. McCarty estimated the eagle ride only covered about 5 to 10 feet.
Piggyback ride anyone? Eagle Uber? Never in my life thought I would ever get a chance to photograph this again. And to...

Posted by Jason McCarty on Friday, June 28, 2019
In 2014, earthtouchnews.com posted a slideshow containing four photos taken at Kgalagadi Transfrontier Park at the border of Botswana and South Africa. A pair of Cape crows harassed a tawny eagle on the ground and continued to pester it as it flew away. This encounter captured by Barry Scott also resulted in a single photo of a crow appearing to hitch a ride.
A 2011 photo from Norway in the Nature Picture Library by Markus Varesvuo shows a common gull attacking a white-tailed sea eagle. This photo stands apart from some of the others because the gull is not just standing on the back of the eagle, but appears to be straddling the eagle's neck and trying to peck its eye.