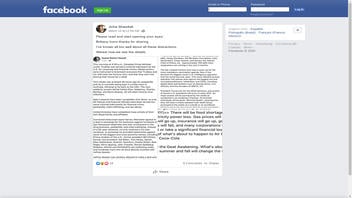 Was Tom Hanks arrested for pedophilia? No, this is not true: Hanks, who was being treated after contracting the novel coronavirus, was not arrested for pedophilia and being held in a hotel room in Australia as claimed as part of the QAnon conspiracy theory that Hanks and others are pedophiles or financial criminals being round up for alleged roles in international child sex-trafficking or schemes to dominate the globe..
The claim appeared as a post (archived here) published to Facebook by Juha Sawkat on March 15, 2020, under the title "Please Read And Start Opening Your Eyes". It opened:
Tom Hanks was arrested 48 hours ago for Pedophilia and he is currently being kept in a Hotel room in Australia refusing to fly back to USA. Next celebrity arrests will be Céline Dion, Madonna, Charles Barkley, Kevin Spacey - all will claim Corona virus infections."
Social media users saw this:
This story is not true.
Hanks was diagnosed with coronavirus while filming a movie in Australia. He and his wife, Rita Wilson, were in the hospital for five days. They were then released and were recovering together. He was never arrested for pedophilia.
Shawkat also posted a screenshot of the alleged reports with the message:
Please read and start opening your eyes. Brittany Irons thanks for sharing. I've known all too well about all these distractions. At least now we see the details."
The screenshot of the message from Facebook user Daniel Robert Dowell does not seem to exist on Facebook.
As the story went viral, Tom Hanks was posting on his Instagram account about his quarantine on March 17, 2020, two days after the Facebook post about his arrest.
The group QAnon seems to have started the fake story and included both Canadian Prime Minister Justin Trudeau and television mogul Oprah Winfrey in the conspiracy.
The Washington Post called out the story on March 18, 2020, calling it an "unhinged conspiracy theory," after Winfrey's name started trending on Twitter in connection with a supposed arrest.
Late Tuesday night, as results trickled in from Democratic primary elections and the number of people infected by the novel coronavirus continued to climb, Oprah Winfrey's name began trending on Twitter.

An unhinged conspiracy theory had taken root, claiming that she was arrested for her role in a global sex trafficking ring. It reached a point where Winfrey felt compelled to address the rumors, which quickly spread across the Internet as people bored and trapped at home searched for some form of entertainment.
Winfrey Tweeted a response to the rumor late on March 17, 2020:
Just got a phone call that my name is trending. And being trolled for some awful FAKE thing. It's NOT TRUE. Haven't been raided, or arrested. Just sanitizing and self distancing with the rest of the world. Stay safe everybody.🙏🏾

-- Oprah Winfrey (@Oprah) March 18, 2020
The claim became popular with QAnon followers, with more details about other fake arrests and legal actions that did not go as viral.
One of the pieces shared claimed this about Trudeau:
This morning at 4:30am our Prime Minster was served a criminal indictment by the US for corporate and financial crimes. Media owners were instructed to historically brainwash everyone that PM has Corona virus with his wife and that they wont be leaving their house for a while."
Twitter user Travis View wrote about using coronavirus being used to cover for the supposed conspiracy.
Many QAnon promoters are speculating that the COVID-19 pandemic is a "cover story" for "the storm" that is supposed to purge the world of bad people.

Some are aready saying that if a public figure dies from COVID-19, then that will just be a cover story for their suicide. pic.twitter.com/u6qMGVn1WE

-- Travis View (@travis_view) March 12, 2020
Here is The Washington Post's explainer video on QAnon:
Twitter user Respectable Lawyer posted he had tracked down the man who posted the original story about Oprah's house getting raided, noting it looked like a $30,000 bungalow in West Detroit - not any of Winfrey's mansions.
Tracked down the source of the Oprah sex trafficking arrest hoax, and it's just this weirdo talking in a parking lot for ten minutes. Now it's the top trending topic. pic.twitter.com/TMW4pXcgxq

-- Respectable Lawyer (@RespectableLaw) March 18, 2020
Hanks has been a constant target of QAnon, the far right-wing conspiracy group that claims he and others send secret messages through social media and other means that refer to pedophilia and child sex-trafficking.
In addition to targeting Hanks and Winfrey, the conspiracy claimed that Italy and the United Arab Emirates were two other countries where mass arrests and criminal indictments were served on pedophiles and child sex-traffickers.
None of this is true.