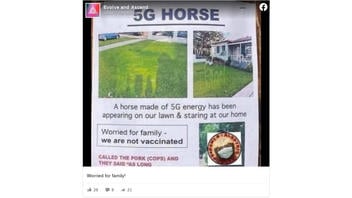 Did a 5G horse appear on the lawn of a family's home, worrying the unvaccinated family who live there? No, that's not true: This photo of a flyer stapled to a wooden pole is an art piece by prankish artist Alan Wagner that has been altered from its original design. A large portion of the original text has been cropped, removing Wagner's watermark as well as the interactive element of the flyer art: a telephone number.
Wagner posted the original watermarked photo of the flyer stapled on a pole to social media on February 24, 2021. Since then, cropped and altered versions have been shared elsewhere. One example is this post (archived here) published by "Evolve and Ascend" on March 10, 2021 with the caption, "Worried for family!" The text on the flyer reads:
5G HORSE
A horse made of 5G energy has been appearing on our lawn & staring at our home
Worried for family - we are not vaccinated
Called the pork (cops) and they said "As long
[the rest is cropped off]
This is what the post looked like on Facebook at the time of writing:
(Source: Facebook screenshot taken on Fri Apr 30 14:35:52 2021 UTC)
Wagner's original flyer continues:
Called the pork (cops) and they said "as long as the horse is not harming your family we dont care about 5G"
Please call Officer Benvar & tell him to take my family's problem seriously.
Officer Bradley Benvar
Badge #: 7398
Children: 3 (Thomas Ben & Gome)
Phone: (760) 981-7190
The watermark @TRUEWAGNER is visible on the right edge of the photo and points to Wagner's Facebook, Instagram or Twitter accounts.
I can't believe about this family's problem! pic.twitter.com/TtFmg6UC9q

-- Alan Wagner (@truewagner) February 24, 2021
It's possible that the image was cropped by a well-intentioned person who thought that "Officer Bradley Benvar" and his family might be on the receiving end of targeted harassment if the phone number was shared. The cropped editions (there are at least two different versions) also were altered to cover the photo of the policeman. One edition of the cropped image posted on Instagram replaced the police officer photo with a sci-fi alien painting by artist Bruce Pennington.
If viewers were able to see the watermark and visit any of Alan Wagner's social media accounts, it would be clear this was a quirky form of art. Wagner calls his flyer art pieces "interactive comedic experiences" in an August 10, 2018, article about him and his creative partner Sydney Marquez. Some of the flyers have a website address or, as was the case with the 5G horse, a telephone number set up with a recorded message.