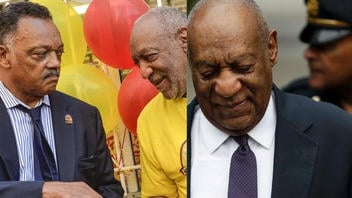 Have all charges been dropped against Bill Cosby? Was he granted early release? No, that's not true: The disgraced actor and comedian remains behind bars. Cosby was convicted of felony sex assault in 2018 and is serving a three- to 10-year sentence.
The claim appeared in a video post (archived here) published on YouTube on March 2, 2021. The post was titled: "Bill Cosby All Charges Dropped & Thanks Jesse Jackson For His Early Release." It consisted, almost entirely, of a narrator reading a December 2020 story published by USA TODAY. Without giving credit to the newspaper, the narrator read its article, which opened:
Bill Cosby is expressing gratitude to Rev. Jesse Jackson, who called for Cosby's release from prison amid the coronavirus pandemic in a new interview.
Click below to watch the video on YouTube:
You can read the full USA TODAY article here. It continued:
Speaking to The Philadelphia Tribune in an article published Tuesday, Jackson asked for the state of Pennsylvania to re-examine the risks that Cosby faces while in state prison as COVID-19 continues to spread.

'He's 84 and blind. Who's he going to hurt? He should be home and free and away from all of those germs,' Jackson said, adding that the 'government needs to do something' and that he thought Cosby 'shouldn't still be in prison.'
Note that we are not fact-checking that story. We are fact-checking the video post, which -- besides not acknowledging that the script for the video was copied verbatim from USA TODAY and that the article was from 2020 -- is wrong because of its headline.
USA TODAY's headline read, "Bill Cosby thanks Jesse Jackson for calling for his release from prison due to COVID-19 threat." The post twisted that to allege that all charges were dropped and that Cosby was granted early release. Neither claim is true.
In 2018, Cosby was found guilty of drugging and assaulting Andrea Constand, a woman he met through the basketball program at Temple University, his alma mater. He was sentenced to serve three to 10 years in prison, where -- at the time of writing, April 30, 2021 -- Cosby remains.