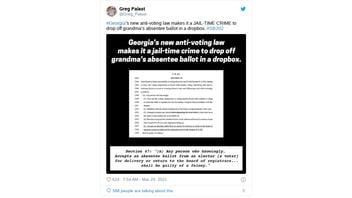 Does Georgia's new voting law make it a "jail-time crime to drop off grandma's absentee ballot"? No, that's not true: Although it is a felony to take an absentee ballot from a voter and deliver or return it, the law carves out various exceptions. Those exceptions include family members, such as parents, siblings and grandchildren.
The claim appeared in a tweet (archived here) published by Greg Palast on March 29, 2021. His post read:
"#Georgia's new anti-voting law makes it a JAIL-TIME CRIME to drop off grandma's absentee ballot in a dropbox. #SB202"
This is what the post looked like on Twitter at the time of writing:
(Source: Twitter screenshot taken on Thu Apr 1 14:39:08 2021 UTC)
As proof for his claim, Palast posted section 47 of the legislation, known as S.B. 202. The relevant part of the law states that anyone who knowingly "accepts an absentee ballot from an elector for delivery or return to the board of registrars except as authorized by subsection (a) of Code Section 21-2-385 shall be guilty of a felony." You can read the whole bill here.
Note that the law clearly carves out exceptions, per "subsection (a) of Code Section 21-2-385." That code, which can be seen here, directs the voter with an absentee ballot (emphasis is ours):
Such envelope shall then be securely sealed and the elector shall then personally mail or personally deliver same to the board of registrars or absentee ballot clerk, provided that mailing or delivery may be made by the elector's mother, father, grandparent, aunt, uncle, brother, sister, spouse, son, daughter, niece, nephew, grandchild, son-in-law, daughter-in-law, mother-in-law, father-in-law, brother-in-law, sister-in-law, or an individual residing in the household of such elector.  
Our reading of the law was confirmed by a spokesperson from the Georgia secretary of state's office. In an email to Lead Stories, dated April 1, 2021, the spokesperson wrote:
That post is false. Someone's grand-child can still put their absentee ballot in the mail box or a drop box. That has not changed.
Also included in the exceptions? Caregivers for disabled voters and employees of jails and detention facilities can mail or deliver ballots on behalf of their clients or inmates.
Lead Stories has written about Georgia's new voting law before. See here for that story, in which we found the law does not include a non-water loophole allowing people to give tea, soda, or milk to voters standing in line. No beverages can be provided to voters waiting to vote.