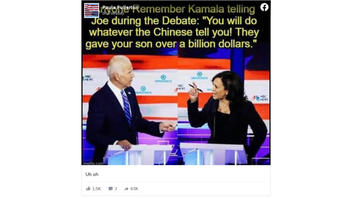 During a debate, did Kamala Harris say to Joe Biden, "You will do whatever the Chinese tell you! They gave your son over a billion dollars"? No, that's not true: Kamala Harris never said this to Joe Biden during a debate.
The claim seems to have first surfaced on Twitter in late January 2021 and on Facebook in April 2021. One example is a Facebook post (archived here) published on April 27, 2021 with the caption, "Uh oh." It opened:
Anyone Remember Kamala telling Joe during the Debate: "You will do whatever the Chinese tell you! They gave your son over a billion dollars."
This is what the post looked like on Facebook on April 29, 2021:
(Source: Facebook screenshot taken on Thu Apr 29 13:30:04 2021 UTC)
Vice President Harris never said this. The quote materialized on Twitter in late January 2021, over a year after she ended her presidential campaign.
Anybody remember Kamala telling Joe during the debate, "You will do whatever the Chinese tell you! They gave your son over a billion dollars!".....Or when she said that she believes ALL of his sexual assault victims claims and her concerns about his ties to the KKK. pic.twitter.com/H4t6fCN0Uc

-- 🇺🇸🦅 P💥A💥T💥R💥I💥O💥T🦅🇺🇸 (@BlessUSA2024) January 24, 2021
The meme's image is from the second night of the first Democratic debate, on June 27, 2019, in Miami. It is a composite of two photos. Biden and Harris were on the same stage, but Bernie Sanders was standing between them. During that debate Harris confronted Biden on the subject of race and busing. The transcript of that specific exchange can be read or viewed in this NBCNews video, which is cued to play at the 57 minute 42 second mark when Harris begins to speak. The full transcript of that night's debate is here.
Lead Stories searched the transcript for the words China, Chinese and billion. Although several of the candidates used these words, Harris never said them.
There were a total of 11 Democratic presidential debates between June 2019 and March 2020. Harris took part in the first five. In both Miami and Detroit, Harris took the stage on the second night of debating. Lead Stories reviewed the transcripts of each of those five debates and did not find any statements by Harris that match the meme's claim.
June 26-27, 2019, Miami (transcript)
July 30-31, 2019, Detroit (transcript)
September 12, 2019, Houston (transcript)
October 15, 2019, Westerville, Ohio (transcript)
November 20, 2019, Atlanta (transcript)
On August 13, 2020, Foxnews.com published an article, "All the times Kamala Harris criticized Joe Biden during the Democratic primary" This lists five times Harris was critical of Biden on the debate stage, none mentioning China or Biden's son.