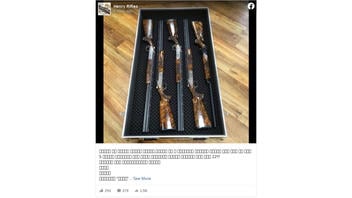 Is Henry Repeating Arms giving away rifles to five lucky winners? No, that's not true: A spokesman for the company told Lead Stories the giveaway is not real. A post making the claim is riddled with spelling errors and appears on a page that has no apparent connection to Henry Repeating Arms.
The giveaway claim appeared in a Facebook on April 28, 2021. It read:
Happy to lucky lucky today, there is a special random event you are one of 5 lucky winners who will recieve henry golden boy mag 22!!!
Follow the instrucions below
Like
Share
Comment "DONE"
don't waste the oppertonity because you were rendomly selected GOOD LUCK
This is what the post looked like on April 28, 2021: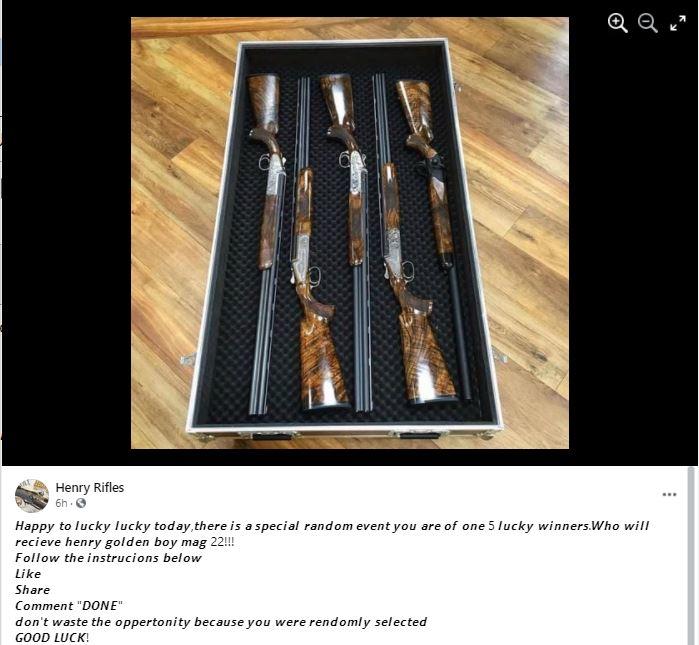 (Source: Facebook screenshot taken on Thu Apr 29 01:05:41 2021 UTC)
Various features of the post raise red flags. It's riddled with spelling mistakes ("instrucions," "oppertonity" and "rendomly"). Also, it appears on a page that despite its name -- "Henry Rifles" -- appears to have no connection to Henry Repeating Arms.
The company's official Facebook page can be seen here. It has over half a million followers. The page featuring the fake giveaway had 574 followers at the time of writing, on April 28, 2021, the same day the page was created.
Lead Stories contacted Henry Repeating Arms to ask about the post. Dan Clayton-Luce, communications director, responded in an email, dated April 28, 2021. He wrote:
Certainly not us as those aren't even firearms that we manufacture in the photo. We only have one official Facebook page, but unfortunately we've been dealing with a huge rash of fraudulent Facebook pages using names similar to ours or incorporating the word Henry. We've reported and removed probably 2 dozen of these pages over the past year, but they pop up just as fast because people fall for it.
He added:
They will message 'winners' and then ask for payment to cover shipping in the range of $50-$100, which is where they're making their bread.
This is not the first time the company has spoken out about its problem with fake pages. In 2020, it posted about scam giveaways, saying it was working with its legal team to get fake pages removed.