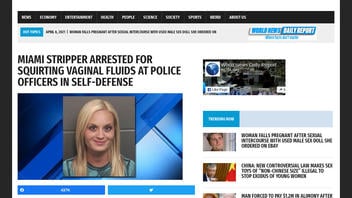 Was a Florida stripper using the name Britney Simmons arrested at the Camel Toe strip club in Miami and did she squirt vaginal fluids at the officers in self-defense? No, that's not true: The story was made up by a Canadian entertainment website that makes a living by publishing fictional stories often involving weird crimes, bizarre sex acts or strange accidents. It is not real. The 2019 article briefly went viral again in April 2021 after someone tweeted a screenshot of the article and other people noticed the mugshot of the alleged stripper bore a striking resemblance to comedian Amy Poehler, causing her name to trend on Twitter.
The story originally appeared as an article (archived here) on World News Daily Report on December 2, 2019 under the title "Miami stripper arrested for squirting vaginal fluids at police officers in self-defense." It opened:
A Florida lap dancer has been arrested in Miami after assaulting five police officers with her vagina and using it as a deadly weapon without the intent to kill.

Britney Simmons, 24, was performing at the Camel Toe strip club when an altercation began between Simmons and several clients at the club.

Miami police were called to intervene and attempted to apprehend Simmons who was highly intoxicated and acting erratically according to the official police report.

Five Miami Police Department officers attempted to place Simmons under arrest but were momentarily indisposed when the lap dancer ejected vaginal fluids towards the officers, temporarily blinding three and injuring two.
However, the mugshot used with the story does not belong to a Miami stripper. It dates back to at least 2008, when The Smoking Gun reported on a raid in a Houston strip club and the photo was included in the mugshots accompanying the story.
On April 6, a tweet by @HoratioSkald (archived here) with a screenshot of the World News Daily Report article went viral:
free her pic.twitter.com/pLCbKHEiuS

-- skáld (@HoratioSkald) April 6, 2021
Dozens of people quote-tweeted the tweet, remarking that the mugshot looked similar to Amy Poehler, eventually causing her name to trend on Twitter:

However, the website World News Daily Report is a humor website that specializes in posting hoaxes and made-up stories. The disclaimer on their website is pretty clear about that even though you have to scroll all the way down the page to find it:
World News Daily Report assumes all responsibility for the satirical nature of its articles and for the fictional nature of their content. All characters appearing in the articles in this website - even those based on real people - are entirely fictional and any resemblance between them and any person, living, dead or undead, is purely a miracle.
On March 20, 2019 the site added a new header that included the slogan "Where facts don't matter" to make it clearer to casual visitors the published content is fictional:

It is run by Janick Murray-Hall and Olivier Legault, who also run the satirical Journal de Mourréal, a satirical site spoofing the (real) Journal de Montréal. Very often their stories feature an image showing a random crazy mugshot from a mugshot gallery on the internet or a stock photo website superimposed over a background of flashing police lights or crime scene tape.
Articles from the site are frequently copied (sometimes even months or years later) by various fake news websites that omit the satire disclaimer and present the information as real.