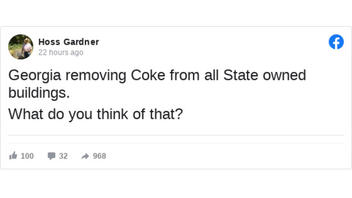 Is Georgia removing Coke from all state-owned buildings? No, that's not true: Although a group of GOP state legislators requested that Coca-Cola products be removed from their offices, there is no known effort to spread such a ban to all state-owned buildings. The lawmakers' request came on the heels of a statement from Coke's CEO, who criticized Georgia's new voting law. Coca-Cola is headquartered in Atlanta.
The claim appeared in a Facebook post (archived here) published on April 6, 2021. The post read:
Georgia removing Coke from all State owned buildings.

What do you think of that?
This is what the post looked like at the time of writing:
(Source: Facebook screenshot taken on Wed Apr 7 14:54:24 2021 UTC)
The post was an apparent reference to a letter, sent to the head of the Georgia Beverage Association from eight Republican state legislators on April 3, 2021. It read, in part:
Given Coke's choice to cave to the pressure of an out of control cancel culture, we respectfully request all Coca-Cola Company products be removed from our office suite immediately. Should Coke chose [sic] to read the bill, share its true intentions and accept their role in the dissemination of mistruths, we would welcome a conversation to rebuild a working relationship.
You can read the full letter here:
Some Georgia Republican state legislators are removing @CocaCola products from their statehouse offices after the Atlanta-based beverage giant criticized the new elections law. #gapol pic.twitter.com/leojXBGQAM

-- Greg Bluestein (@bluestein) April 3, 2021
It came on the heels of a statement from James Quincey, chairman and CEO of The Coca-Cola Company. He criticized Georgia's voting law, saying that Coke "will continue to stand up for what is right in Georgia and across the U.S." Critics contend the new law restricts voting rights. The statement opened:
We want to be crystal clear and state unambiguously that we are disappointed in the outcome of the Georgia voting legislation. Throughout Georgia's legislative session we provided feedback to members of both legislative chambers and political parties, opposing measures in the bills that would diminish or deter access to voting. 
Lead Stories asked Coke to comment on the post's claim and the lawmakers' letter. In an email, dated April 7, 2021, a spokeswoman wrote:
The claim you are asking about is not true. There was one office suite of legislators who asked to have our products removed, which has been covered by media.
She added that the beverages in question are complimentary. They are offered to lawmakers to provide to their constituents when they visit their representatives' offices.
Lead Stories has covered controversies involving Coke before. See here and here for those stories.
We've also debunked posts about Georgia's new voting law. Contrary to claims online, the law does not make it a "jail-time crime to drop off grandma's absentee ballot." There are exemptions, which include family members. The law also does not include a non-water loophole allowing people to give tea, soda or milk to voters standing in line. The new law makes it a misdemeanor to hand out drinks to voters within 150 feet of a polling place, within a polling place and within 25 feet of any voter in line, no matter what the drink is.