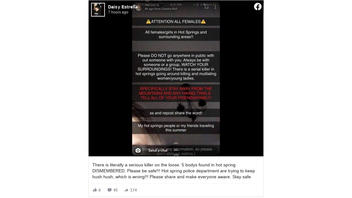 Were law enforcement officers investigating serial killings in Hot Springs, Arkansas, in mid-April, 2021? No, that's not true: The National Park Service (NPS) and Federal Bureau of Investigation (FBI) were investigating a dead body found in a national park.
The claim appeared as a Facebook post (archived here) on April 12, 2021. It stated:
There is literally a serious killer on the loose. 5 bodys found in hot spring DISMEMBERED. Please be safe!!! Hot spring police department are trying to keep hush hush, which is wrong!!! Please share and make everyone aware. Stay safe
This is what the post looked like on Facebook at the time of writing:
(Source: Facebook screenshot taken on Mon Apr 12 23:48:03 2021 UTC)
The picture included in the post is a screenshot from a Snapchat account and contained text that read:
⚠️ATTENTION ALL FEMALES⚠️
All females/girls in Hot Springs and surrounding areas!!
Please DO NOT go anywhere in public with
out someone with you. Always be with someone or a group, WATCH YOUR
SURROUNDINGS! There is a serial killer in hot springs going around killing and mutilating
women/young ladies.
SPECIFICALLY STAY AWAY FROM THE MOUNTAINS AND ANY HIKING TRAILS - TELL ALL OF YOUR FRIENDS/FAMILY!
ss and repost share the word!
My hot springs people or my friends traveling
this summer
I cannot share any information, so please don't slide up asking :)
Asked for information on the case, Hot Springs police referred Lead Stories to the National Park Service. Alexandra Picavet, the spokesperson for Regions 3,4 and 5 of the National Park Service said in a phone call with Lead Stories that law enforcement is not investigating serial killings in Hot Springs:
These rumors are not substantiated by our investigation.
Rather, law enforcement is investigating a single incident involving the human remains of one person found near Blacksnake Road in Hot Springs at the end of March 2021. As for the FBI's relationship to the case, Picavet said it is standard protocol for the bureau to get involved because the remains were found in Hot Springs National Park, as displayed in the map below. That area is considered federal land which qualifies as federal jurisdiction.
(Source: Google Maps screenshot taken on Mon Apr 12 23:48 2021 UTC)
According to Picavet and Connor Hagan, the public affairs officer at the FBI's Little Rock, Arkansas, field office, the NPS planned to release a press release on April 13, 2021, with additional information. Lead Stories will update the story as necessary when the press release is published.