STORY UPDATED: check for updates below.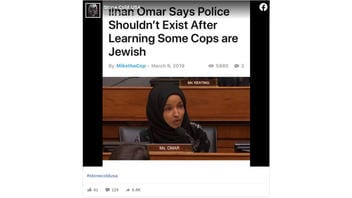 Did Rep. Ilhan Omar, D-Minnesota say police shouldn't exist after learning some officers are Jewish? No, that's not true: the claim is from a self-proclaimed satire website about law enforcement.
The claim has reappeared on social media from a post (archived here) originally published on Facebook on March 18, 2019. It was a screenshot of a headline and photo of Omar posted on the website Blue News Network on March 8, 2019. It opened:
Ilhan Omar Says Police Shouldn't Exist After Learning Some Cops are Jewish
This is what the post looked like on Facebook at the time of writing:
(Source: Facebook screenshot taken on Mon Apr 12 13:53:42 2021 UTC)
The now-defunct website described itself as a "satirical news website." It added, "While some stuff may bear a strong resemblance to the truth, we assure you it is most decidedly bulls**t." There was even a satire disclaimer link in the footer that linked to the site's About page that added: "We are just a few bored cops who thought we would make sport of triggering people and having a little fun at the expense of rookies, dispatchers, and troopers. If you don't like what we are doing here, I am sorry to tell you that we do not care."
An online search for Omar's name and the words "police," "should not exist" and "Jewish" yielded no results showing such a statement. A spokesman for Omar responded to an inquiry from Lead Stories by saying about the claim, "This is false."
Blue News Network posted the same false claim about Omar on Instagram on March 8, 2019, in what again seems to be just a headline. The site's Instagram page has a similar disclaimer, "Your trusted source for law enforcement satire."
2021-04-13T16:15:34Z

2021-04-13T16:15:34Z

This story has been updated with a statement from Rep. Omar's office.