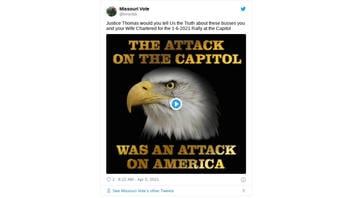 Did Supreme Court Justice Clarence Thomas and his wife charter buses for January 6, 2021, protesters in Washington, D.C.? No, there is no proof of that. Justice Thomas's wife, Ginni Thomas, did promote the rally that evolved into protesters storming the U.S. Capitol on January 6, 2021, but there have been no documents or witnesses to support a claim that she or her husband paid for buses that transported supporters to the event. A claim went viral in January 2021 that implied Ginni Thomas was connected to Turning Point USA, which sent buses of people to the rally, and it has resurfaced again in April 2021. That connection is unfounded, according to Andrew Kolvet, spokesperson for Turning Point USA. And he told Lead Stories that the Thomases did not personally finance any of the buses sent to the rally.
The claim appeared as a post (archived here) where it was published on Twitter on April 5, 2021. It opened:
Justice Thomas would you tell Us the Truth about these busses you and your Wife Chartered for the 1-6-2021 Rally at the Capitol
This is what the post looked like on Twitter at the time of writing:
(Source: Twitter screenshot taken on Mon Apr 5 21:50:33 2021 UTC)
The tweet shows a gif of a bald eagle with a tear running down its face, with text that reads: "The attack on the Capitol was an attack on America."
The claim originally surfaced after the insurrection on January 6, 2021. Anne Nelson first made the claim on her Twitter account on January 8, 2021.
Thread. Ginni (Mrs. Clarence) Thomas is on Board of Govs. of #CNP Action (lobbying arm), advisory council for Charlie Kirk's TPUSA--which sent 80 bus loads to yesterday's Washington Riot. #ShadowNetwork https://t.co/XirtKWmYRk

-- Anne Nelson (@anelsona) January 8, 2021

Justice Thomas' wife did support the protests, as news outlets reported at the time.
On the morning of Jan. 6, Ginni Thomas--wife of Supreme Court Justice Clarence Thomas--endorsed the protest demanding that Congress overturn the election, then sent her "LOVE" to the demonstrators, who violently overtook the Capitol several hours later. She has not posted since. pic.twitter.com/378CHMkFN5

-- Mark Joseph Stern (@mjs_DC) January 8, 2021
However, she did not charter buses to the rally. The claim was debunked by the New York Times in January 2021, but went viral again in April 2021.
Kolvet told Lead Stories via telephone on April 5, 2021, that Ginni Thomas did not fund the buses carrying protesters to Washington, D.C., on January 6, 2021.
The New York Times did report her as being on the advisory board for Turning Point USA, which Kolvet denied. The Turning Point USA website does not show her as an advisory board member as of April 5, 2021.
The April 2021 claim also includes Justice Thomas as funding the buses. "They didn't pay for anything," Kolvet said. "Ginni Thomas hasn't been on the advisory board for a couple years," he said, adding:
It's a complete internet rumor.
He also said he didn't believe Ginni Thomas or her husband had made financial contributions to Turning Point USA, and her involvement was not ever "financial in nature. It was just as an adviser." Kolvet said she has been "completely uninvolved with Turning Point USA."
Kolvet said nothing had changed since the New York Times debunk was reported and noted his organization worked with the newspaper on the story. He confirmed only seven buses were actually funded and said Turning Point USA co-founder Charlie Kirk deleted a tweet about the number of buses when he learned it was incorrect.
Part of the controversy came from Kirk's tweet claiming the organization was sending 80 buses to the rally. On January 4, 2021, he wrote the organization would be sending "80+ buses full of patriots to DC to fight for this president." The tweet has since been deleted but is archived here.
"Charlie deleted his tweet because it was inaccurate and overstated the intention. He's a political commentator. He speaks a lot. He is not involved in the logistics of organizing events. He offered 80 but only ended up doing seven."
Nelson wrote in her tweet about Ginni Thomas' connection to #CNP, which is the Council for National Policy. The Washington Post reported that Ginni Thomas is a member of the organization, and Kirk spoke to the group in October 2020.
Kolvet denied that there was a connection between Turning Point USA and the Council for National Policy. "We have nothing to do with it other than Charlie(Kirk, co-founder of Turning Point) has spoken at the event before," Kolvet said.