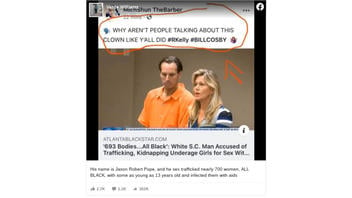 Is there evidence or criminal charges that say South Carolina sex crimes defendant Jason "DJ Kidd" Pope trafficked "nearly 700 women, all black"? No, that's not true: Social media posts have taken out of context Pope's Facebook boast that by age 36 he was "...with 693 bodies...all black females," a phrase of indeterminate meaning. Even if every charge pending against him at the time this was written on April 5, 2021, concerns a different alleged victim, there would be 19 victims, total. Pope has not pleaded guilty and has not yet been tried on the charges. Nothing in court filings says he trafficked 693 women.
The claim appeared as the headline of an article in Atlanta Black Star which was then built into a meme (archived here) published on Facebook January 19, 2020, under the title "WHY AREN'T PEOPLE TALKING ABOUT THIS CLOWN LIKE Y'ALL DID #RKelly #BILL COSBY". The poster continued:
His name is Jason Robert Pope, and he sex trafficked nearly 700 women, ALL BLACK, with some as young as 13 years old and infected them with aids.
This is what the post looked like on Facebook at the time of writing:
(Source: Facebook screenshot taken on Mon Apr 5 17:28:29 2021 UTC)
Police in Florence County, South Carolina, arrested Pope in August of 2019, alleging he had sex with multiple minors he attracted via the social media account of his DJ business. Bloggers and reporters found and published multiple photos of Pope with young women, some in which he bragged about his conquests and rap DJ lifestyle.
As of April 5, 2021, the pending charges against Pope included seven counts of trafficking minors, seven counts of criminal sexual content with persons age 11-14, three counts of criminal sexual content with a non-minor, one count of kidnapping and one count of promoting prostitution of a minor.
Although Pope is charged with serious crimes, it would be premature to definitively say he committed any of them. "He has not pleaded guilty or been convicted of anything yet and we don't have a court date yet," said Robert Kittle, spokesman for the South Carolina attorney general's office, which is prosecuting the case.
The spokesperson for the Florence County Sheriff declined all comment, noting that the case is still under investigation.
Lead Stories reviewed the online public index in pending cases against Pope and found no evidence he has been charged with trafficking 693 women. In the cases underway at the time of this writing, Pope had not been charged with infecting the women with AIDS, another allegation made in the Facebook claims about Pope.