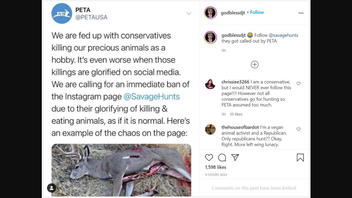 Did PETA call for an immediate ban of the Instagram page @SavageHunts? No, that's not true: This fake tweet is a publicity stunt, to promote and circulate the name of an Instagram page about hunting. PETA is a U.S.-based animal rights organization, and while the organization is opposed to hunting, this tweet was not sent out from the verified PETA Twitter account.
The screenshot of the fake tweet appeared on Instagram in a post (archived here) published by @godblessdjt on April 11, 2021. The text of the fake tweet reads:
We are fed up with conservatives killing our precious animals as a hobby. It's even worse when those killings are glorified on social media. We are calling for an immediate ban of the Instagram page @SavageHunts due to their glorifying of killing & eating animals, as if it is normal. Here's an example of the chaos on the page:
This is how the post appeared on Instagram: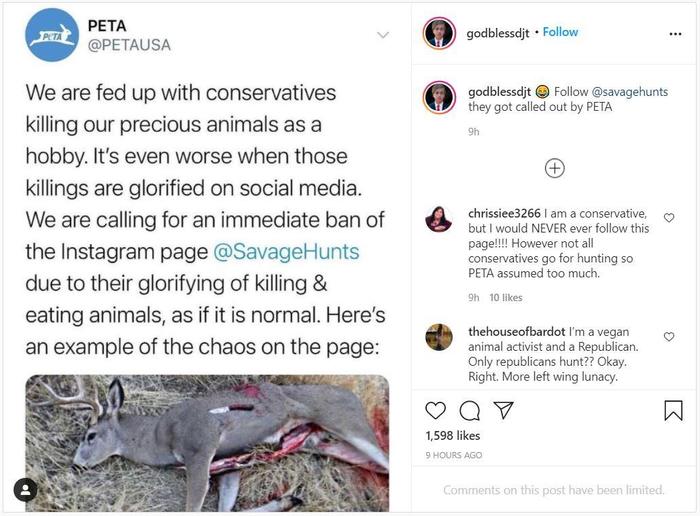 (Source: Instagram screenshot taken on Mon Apr 12 14:12:31 2021 UTC)
The Twitter account that purportedly made this tweet, @petausa is not active and the username is written in Chinese.
The verified Twitter account that belongs to the animal rights organization is @PETA. That account never published this item. A search of the @PETA twitter account for a unique phrase from this tweet, "from:peta killings are glorified," yielded no results.
This fake tweet, which is just a photo posted on Instagram, has an additional promotional trick and technical work-around. The account name '@savagehunts' appears in blue -- just as tags in real tweets do. On a real tweet those blue @tags or #hashtagged words are hyperlinked -- clicking them will carry the reader to the other Twitter account. In this case, a simple screenshot photo of blue text will not carry a hyperlink. An instagram tag has been added to the area where the blue text '@SavageHunts' appears, so clicking on that Instagram tag will direct the reader to the @SavageHunts Instagram account.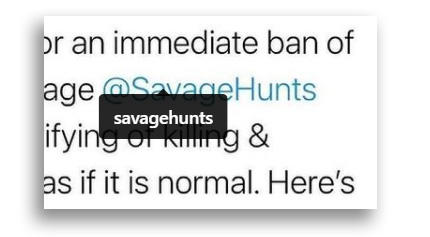 (Source: Lead Stories detail of Instagram screenshot taken on Mon Apr 12 14:45:29 2021 UTC)