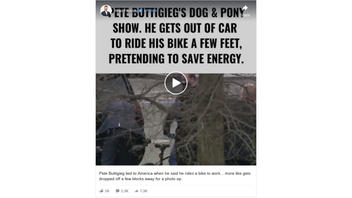 Did Pete Buttigieg stage a short bike ride for a photo op? No, that's not true: The claim was made without proof, based on a short video clip that did not document his whole trip. The transportation secretary biked both to and from a Cabinet meeting at the White House, according to a spokesperson at the Department of Transportation (DOT). A video shot at the White House shows Buttigieg mounting his bike after the meeting and pedaling off to DOT.
An example of the claim appeared in a Facebook post (archived here) published on April 3, 2021 by Ryan Fournier, founder of Students for Trump. The post, which was titled "Pete Buttigieg lied to America when he said he rides a bike to work... more like gets dropped off a few blocks away for a photo op," included a video and the following text:
PETE BUTTIGIEG'S DOG & PONY SHOW. HE GETS OUT OF CAR TO RIDE HIS BIKE A FEW FEET, PRETENDING TO SAVE ENERGY.
This is what the post looked like on Facebook at the time of writing:
(Source: Facebook screenshot taken on Mon Apr 5 14:53:16 2021 UTC)
The video shows Buttigieg, who is wearing a helmet, climb on a bike and ride off. It does not show, as the video claims, the transportation secretary getting out of a car "to ride his bike a few feet."
Lead Stories reached out to DOT to ask about the post's claim. In an email, dated April 5, 2021, a spokesperson replied:
Secretary Buttigieg rode his bike from DOT to the White House cabinet meeting and he rode his bike back to DOT after the meeting.
By bike, the two buildings are roughly three miles apart.
The original video was shot at the White House on April 1, 2021. It was posted on social media by CNN White House producer DJ Judd, who did not say anything about the event being staged. SCOTUSblog's Katie Barlow replied to his tweet with a post that included a short clip of Buttigieg riding out of the complex. Their tweets can be seen below:
And biked out of the complex. pic.twitter.com/M50jDbEQ1s

-- Katie Barlow (@katieleebarlow) April 1, 2021
Buttigieg, himself, shared Judd's tweet, along with his own message: "Great way to get around!"
Great way to get around! https://t.co/UdDdhxBgnD

-- Secretary Pete Buttigieg (@SecretaryPete) April 2, 2021
If the video showed what the post claims it did -- namely, that Buttigieg staged a fake ride for the press -- it seems unlikely that he would have chosen to share it as that might increase scrutiny.