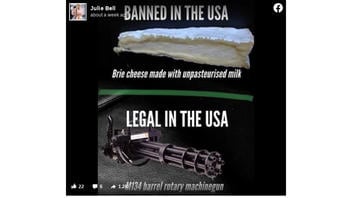 Is Brie cheese made with unpasteurized milk illegal in the U.S., while a machine gun with six rotating barrels is legal? No, that's an exaggeration that leaves out important context and relies on semantics.
Both Brie and machine guns are regulated. Since 1986 federal law has forbidden importation of French Brie, a soft unaged cheese made with unpasteurized milk. But, a U.S. resident of any age can make any cheese they want with raw milk. Plus, you can buy several varieties of aged cheese made with raw milk online and in stores.
Meanwhile, automatic weapons can only be owned or made by U.S. adults who pass strict requirements for a Federal Firearms License, which can take months. By federal law, the only M134 eligible for purchase are those that are at least 53 years old as of 2021.
The claim appeared in a Facebook post (archived here) published March 29, 2021 under the title "BANNED IN THE USA." It opened:
Brie cheese made with unpasteurised milk. LEGAL IN THE USA. Barrel rotary M134 machinegun
This is what the post looked like on Facebook at the time of writing:
(Source: Facebook screenshot taken on Tue Apr 6 22:55:26 2021 UTC)
Cheese experts sniff that Brie is only made in France, although most U.S. groceries stock a domestic Brie made with pasteurized milk. Any American can legally make Brie cheese with raw milk and can buy other cheeses made from unpasteurized raw milk that's been aged at least 60 days. Here, for example, is an example of a raw milk cheddar available through Instacart, a web-based grocery delivery service: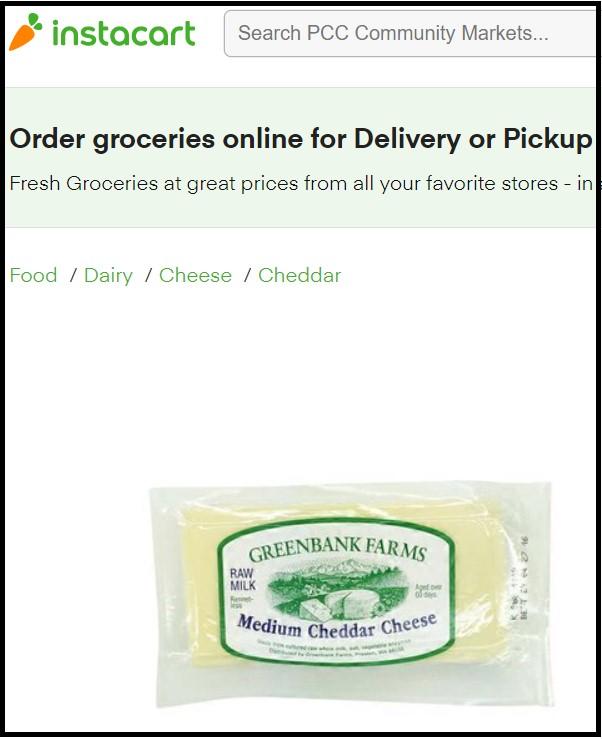 (Source: Instacart screengrab Tue Apr 7 20:03 UTC 2021)
Meanwhile, less than .02% of the U.S. population can legally own an M134 for their personal use. According to the most recent statistics available from Alcohol, Tobacco and Firearms, in 2019, there were 52,193 individuals (out of the 2019 U.S. population of 328.2 million) with the Federal Firearms License required to legally own a fully automatic firearm.
Purchase of such guns is governed by federal law, Bureau of Alcohol Tobacco, Firearms & Explosives spokesman Stephen Gravatt wrote in an April 7, 2021 email responding to questions from Lead Stories.
For starters, you must be at least 18. Applicants for a license to own a machine gun must provide fingerprints and a photo. According to links provided by Gravatt, any of the following disqualify a person from owning such guns: indictment for or conviction on felony; being a fugitive from justice; being illegally in the U.S.; being an unlawful controlled substance user/addict; being subject to a domestic violence restraining order; having been dishonorably discharged from military service; being adjudicated mentally defective or committed to a mental institution; having renounced U.S. citizenship; being convicted of a misdemeanor crime of domestic violence.
Getting permission to buy an M134, the gun shown in the meme, is even more difficult, says the National Rifle Association. In an April 7, 2021 email to Lead Stories, Amy Hunter, director of media relations of the National Rifle Association, said would-be M134 buyers need to fill out something called Form 4 and receive approval from their area's chief law enforcement officer. Said Hunter:
The application usually takes 9-12 months to process. It should also be noted that those who receive approval from the BATFE can only purchase firearms manufactured before 1986 which means the supply is limited. Starting price for an M-134 minigun would be around $250,000.