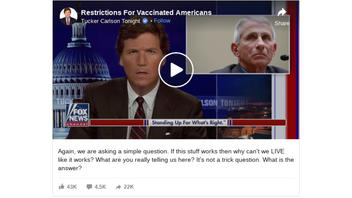 Have Tucker Carlson's questions about COVID-19 vaccines gone unanswered? No, that's not true: There are answers for the questions the FOX News host posed regarding COVID-19 vaccines, despite him saying there are none and despite long-established norms of scientific caution about new vaccines and diseases. On multiple shows, he has questioned why people who have received a COVID-19 vaccine have to wear a mask and whether or not they can eat in restaurants.
The Centers for Disease Control and Prevention has provided details on their website about what fully vaccinated people can do. There are several national news reports about why masks should still be worn in many situations by people who have been fully vaccinated.
The claim appeared as a video published by Tucker Carlson on April 14, 2021, on Facebook with the title, "Restrictions For Vaccinated Americans," (archived here) with the following text:
Again, we are asking a simple question. If this stuff works then why can't we LIVE like it works? What are you really telling us here? It's not a trick question. What is the answer?"
This is what the post looked like on Facebook on April 15, 2021:
(Source: Facebook screenshot taken on Thu Apr 15 23:32:15 2021 UTC)
In the four-minute video clip from Carlson's FOX News show that aired April 14, 2021, he is responding to criticism he received from his show the previous night. He tells his viewers that the questions he has about the COVID-19 vaccine have not been answered.
Carlson begins:
So, if you believe in science, if you're grateful for vaccines and we do and we are then you should expect very straightforward answers to very simple questions about how they work. And for months now we have been asking a very straightforward question about the coronavirus vaccine. Why do people who take it and, by the way, why do people who have been previously infected and show high levels of antibodies, have to live under the restrictions that the vaccines were supposed to eliminate?

Why for example does Tony Fauci say you have to wear a mask after you get the vaccine? If we're following the science and we sincerely hope to, we're wondering is Fauci telling Americans who have been vaccinated or who have recovered from the coronavirus itself that they aren't protected against future infections? Is this why he's saying they can't eat in restaurants or go to bars? These are not trick questions. They're the most basic of all questions."
There are answers to both of Carlson's questions and they are publicly available on the internet.
According to the CDC, for fully vaccinated people, wearing a mask still lowers the risk of infection from unvaccinated people. Vaccines fight infection, but the virus will still attempt to invade potential host bodies. On the CDC website, the guidelines explained in "Interim Public Health Recommendations for Fully Vaccinated People" are that individuals who have been vaccinated need to wear a mask with people who have not been vaccinated, noting that there is still a higher risk of contracting COVID-19 when you mix with people from multiple households.
Vaccinated people visiting with unvaccinated people from multiple households at the same time
If the unvaccinated people come from multiple households, there is a higher risk of SARS-CoV-2 transmission among them. Therefore, all people involved should take precautions including wearing a well-fitted mask, staying at least 6 feet away from others, and visiting outdoors or in a well-ventilated space.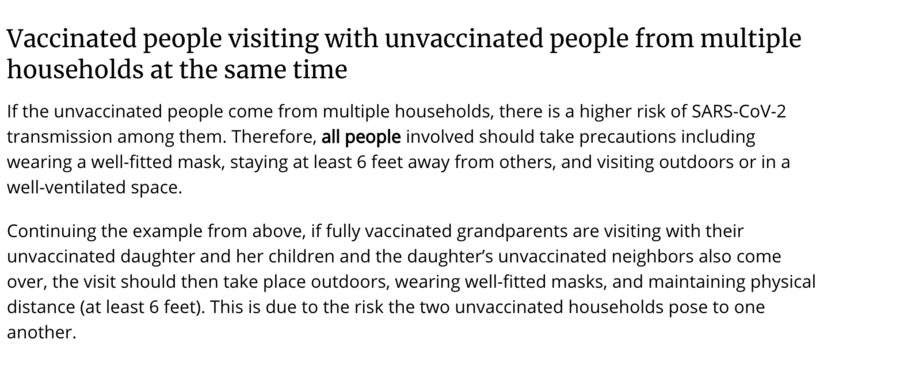 The CDC website also answers the question of whether vaccinated people can eat in restaurants.
Other Personal or Social Activities Outside the Home
Risk of SARS-CoV-2 infection during public social activities such as dining indoors at a restaurant or going to the gym is lower for fully vaccinated people. However, precautions should still be taken as transmission risk in these settings is higher and likely increases with the number of unvaccinated people present. Thus, fully vaccinated people engaging in social activities in public settings should continue to follow all guidance for these settings including wearing a well-fitted mask, maintaining physical distance (at least 6 feet), avoiding crowds, avoiding poorly ventilated spaces, covering coughs and sneezes, and washing hands frequently.
There are multiple news outlets that have published answers to Carlson's questions about the COVID-19 vaccine. All are publicly available on the internet. One is a CNN story titled, "After you're vaccinated, it's critical to keep masking up in some places (for now). Here's why."
Carlson's own home network, FOX News, published an article titled, "Biden got COVID-19 vaccine and still wears 2 masks: Doctors weigh in," quoting experts who explained why fully vaccinated people may still be wearing masks.