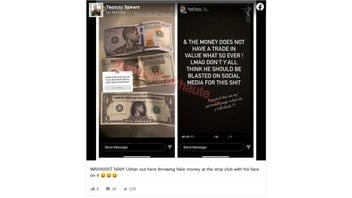 Did platinum album-selling artist Usher throw fake dollar bills to Las Vegas strippers in place of the paper money customarily thrown as tips? No, that's not true: Usher did not make it rain with fake bills of various amounts that featured his likeness. According to a representative of Sapphire Las Vegas, the club in question, Usher generously paid the dancers and the club with real money.
The claim appeared in several social media posts, including this Facebook post (archived here) by user Teonny Spears on April 12, 2021. The caption read:
WAIIIIIIIIIIT NAH! Usher out here throwing fake money at the strip club with his face on it 😩😩😩
This is what the post looked like on Facebook at the time of writing:
(Source: Facebook screenshot taken on Fri Apr 16 00:20:37 2021 UTC)
The post's image contained two screenshots from the Instagram story of Instagram user @beel0ove.
One of the screenshots featured a picture of the fake Usher money and mentioned The Shade Room, an entertainment, news and gossip media company. The text included a question posed using the Instagram Story Questions feature and stated:
@theshaderoom

Ladies what would you do if you danced all night for usher and he threw this??
The other screenshot featured text that read:
& THE MONEY DOES NOT
HAVE A TRADE IN
VALUE WHAT SO EVER !
LMAO DON'T Y'ALL
THINK HE SHOULD BE
BLASTED ON SOCIAL
MEDIA FOR THIS SHIT
Reports of Usher throwing the fake dollar bills originated on the private page of @beel0ve, whose public business page bio says she is located in Las Vegas. After the claim was picked up by media outlets, she posted the same screenshots used in Teonny Spears' Facebook post and juxtaposed them as a single image on her public business page, along with a picture of Usher in the center.
Here is a screenshot of @beel0ove's public business page post: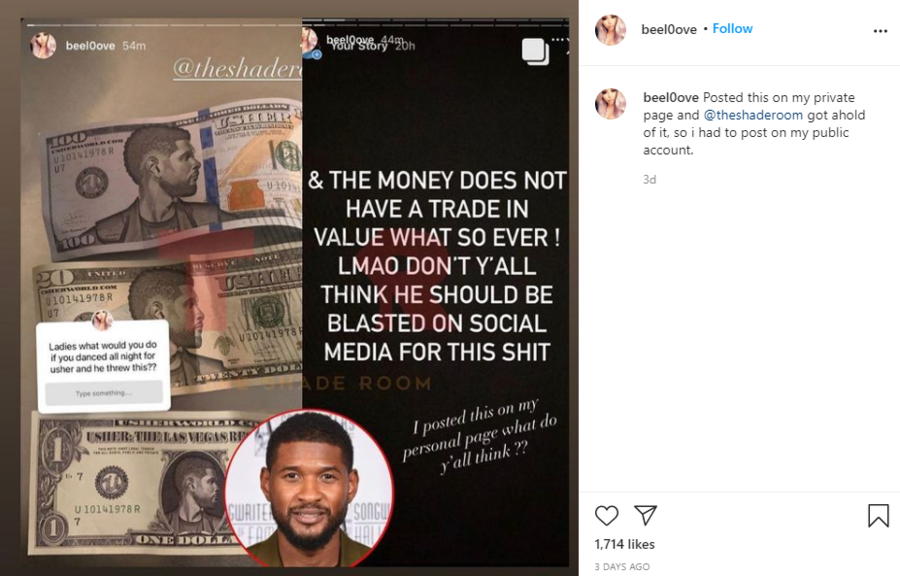 (Source: Instagram screenshot taken on Fri Apr 16 00:33:12 2021 UTC)
Lead Stories reached out to George Wilson, Sapphire Las Vegas's director of marketing, to verify if the staff at the club were compensated by Usher with real money and whether @beel0ove is actually an employee of the club. In an email from April 15, 2021, Wilson said:
Usher was a true gentleman and a great guest at the club. He and his crew converted thousands of real dollars to tip the girls dancing on the stage. They enjoyed multiple bottles of our best spirits and left a generous tip for the staff!

Apparently, someone in his team left some Usher dollars on the floor to promote his Vegas residency. That is where it seems the confusion came in. But real actual cash was used for tips. We would love to host him again at Sapphire Las Vegas or the Sapphire Pool opening for Summer on Friday, April 30th, 2021.
At the time of this writing, Wilson did not comment on whether @beel0ove worked for Sapphire Las Vegas.
TMZ reported members of Usher's team denied the claim and said that some of the fake Usher dollars were a promotion for the artist's Las Vegas residency, which begins in July 2021.