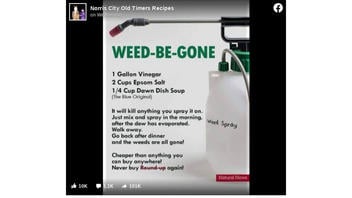 Is this weed-killing recipe that uses vinegar, Epsom salt and Dawn Dish Soap a safe and proven home remedy to kill weeds? No, that's not true: While this recipe might cause sprayed plants to shrivel and turn brown, it is not proven to work killing the weed's root, it could harm other plants, and there are other safety issues regarding labeling and storage of a home remedy that should be considered.
This recipe has been circulating since at least 2014 with a variety of photos. One recent post (archived here) was published by Norris City Old Timers Recipes on April 8, 2021. The text of the meme reads:
WEED-BE-GONE




1 Gallon Vinegar




2 Cups Epsom Salt




1/4 Cup Dawn Dish Soup




(The Blue Original)





It will kill anything you spray it on.




Just mix and spray in the morning,




after the dew has evaporated.




Walk away.




Go back after dinner


and the weeds are all gone!

Cheaper than anything you can buy anywhere!
Never buy Round-up again!
This is what the post looked like on Facebook at the time of writing:
(Source: Facebook screenshot taken on Mon Apr 12 19:43:38 2021 UTC)
The photo shows a generic pump-style plastic garden sprayer that has the words "Weed Spray" written on it with a marker. There is also a "Natural News" logo in the lower right-hand corner of the meme. Lead Stories reached out to NaturalNews.com by email to find out if this meme was produced by its graphics department and will update when we receive a reply. Early editions of this meme from 2014 show different graphics with the same text and no Natural News logo.
Lead Stories reached out by telephone to the extension service at Purdue University and spoke with the director of Purdue pesticide programs, Fred Whitford. He is the lead author of an extension-service booklet titled, "Offering Sound Pest Management Advice to the Public." On page 28 of the pdf booklet are some of the main guiding principles offered in regard to a commonly expressed idea about home remedies..."I have a good solution. All you have to do is to mix this and that....":
It is unwise, illegal, and sometimes dangerous to offer recommendations that include home remedies, even if you know they work. Maybe you know from personal experience, from television, or from a garden magazine: it doesn't matter. Whether you work for the Cooperative Extension Service or a local retailer, don't do it. If you stick with information clearly stated on a registered pesticide label, you will be covered by the manufacturer's guarantees. But if your recommendation includes a home remedy, your problems are strictly your own. Any problem that arises from your home remedy advice is between you and the customer. Nobody will bail you out: not your boss, not your company or institution, and certainly not the manufacturers of the ingredients used.
In our conversation by telephone, topping the list of Whitford's concerns is the use of an unmarked container to hold and store a homemade mixture. Many calls to poison control centers are due to contact with pesticides, and children are especially vulnerable. An unmarked or repurposed bottle holding a homemade remedy does not offer poison control or a doctor any information about what they might be dealing with. The labeling on commercial products has safety information about how to apply it, about active ingredients and dilution ratios, what plants it is effective in controlling, where it is safe to use and what protective equipment a person needs to wear. Commercial weed killers have been tested and are registered with the EPA to be used as labeled-- that label is a legal document.
Whitford explained that when vinegar
was studied
for its potential as an organic herbicide, the 5% solutions, (this would be the concentration found in red or white kitchen vinegars and is the concentration implied in this meme) did not reliably control weeds. The vinegar concentration which does reliably kill weeds is 20% agricultural vinegar, which requires protective equipment to handle.

This meme calls the home remedy recipe "Weed-Be-Gone." Ortho, a weed control pesticide brand of Scotts, sells a product for killing weeds in lawns by a similar name- "Weed B-Gon." Ortho Weed B-Gon was formulated to kill weeds that are growing in turfgrass without harming the grass. The labeling on the package has specific information about application and safety. The potential for confusion regarding the name of the EPA-registered and trademarked product Weed B-Gon, and the home remedy, "Weed-Be-Gone" could just be a matter of unintentionally killing some turfgrass, or might cause miscommunication during a phone call to a poison control center.
Below are two examples of similar home remedy weed killer memes. The meme on the right, from 2014, shows a sprayer with the ingredients written on the bottle. The meme on the left calls for a gallon of vinegar, but pictures a standard 32-oz. vinegar bottle. This type of confusion could result in disproportionate ingredient ratios. This meme also calls for table salt rather than Epsom salts -- they are not the same thing, so the resulting mixture will be very different chemical composition that would perform differently than one than one made with Epsom salt.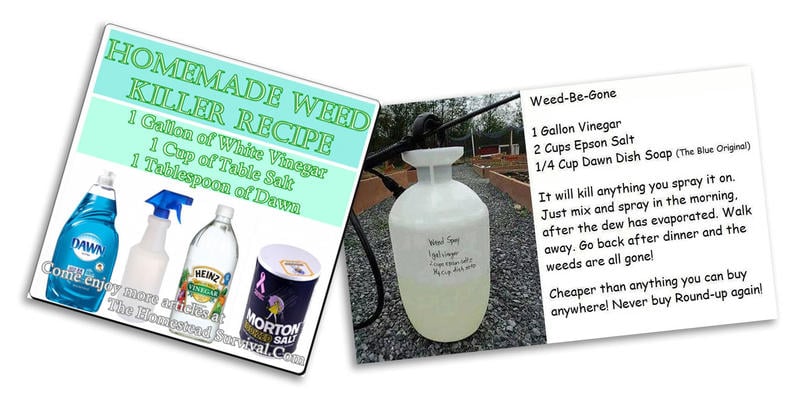 (Source: Lead Stories comparison featuring Facebook screenshots taken on Tue Apr 13 00:44:51 2021 UTC)
On May 16, 2019, SouthernLiving.com published an article, "Can We Just Quit with the Vinegar-Epsom Salts Weed-Killer Nonsense?" which discussed among other things, the difference between table salt and Epsom salt when it comes to killing plants:
Epsom salts are in this recipe for the simple fact that many people mistake them for table salt. They're two different things. Epsom salts consist of magnesium sulfate. They supply two essential plant nutrients, magnesium and sulfur, which is why people have used them for decades and decades to feed plants such as roses, tomatoes, and peppers. They don't kill plants. They make them grow better. Why would you put them in a weed-killer? To make your weeds grow faster?

OK, then, let's just replace Epsom salts with regular table salt, which is sodium chloride. That kills plants, doesn't it? Yes, unless they're salt-tolerant, like many beach plants. It also poisons the soil, so that nothing will grow back (remember what Rome did to Carthage?). Plus, it ruins soil structure, so that soil will not drain. Using table salt in the garden is just plain stupid.
Lead Stories reached out by email to The Scotts Company for comment and will update when we hear back, if appropriate. At the time of publishing we have not had a response from Natural News.