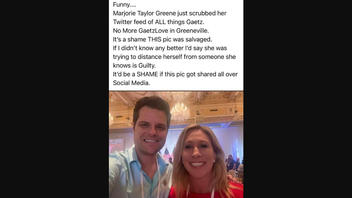 Did Rep. Marjorie Taylor Greene scrub her Twitter account of support of Rep. Matt Gaetz? No, that's not true: Greene's Twitter is still full of tweets supporting Gaetz.
The claim originated in a Facebook post (deleted as of April 13, 2021) where it was published by The National Strategic Stockpile of Memes and Satire on April 5 2021. It read:
Funny....Marjorie Taylor Greene just scrubbed her Twitter feed of ALL things Gaetz. No more GaetzLove in Greeneville. It's a shame THIS pic was salvaged. If I didn't know any better I'd say she was trying to distance herself from someone she knows is Guilty. It'd be a SHAME if this pic got shared all over Social Media.
This is what the post looked like on Facebook before it was taken down: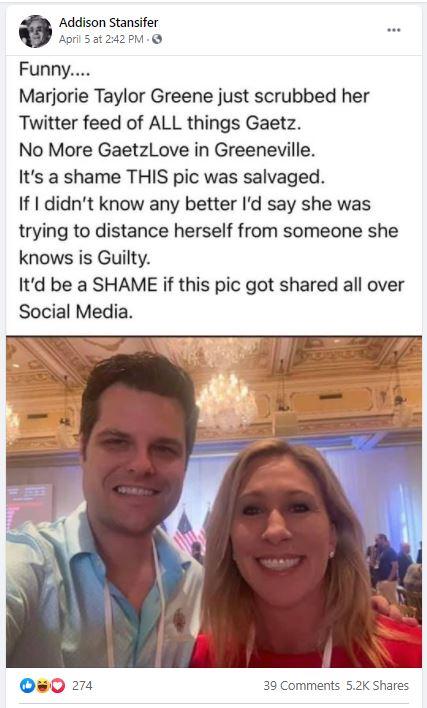 Greene's office responded to this claim in an April 13, 2021, email to Lead Stories. It read, "It's absolutely false. Congresswoman Greene has tweeted her support for Rep. Gaetz numerous times and it's easily verifiable with a simple search." The email continued with a categorized list of Twitter links from Greene from August 2020 to April 2021. The April 2021 tweets are as follows:
Zero women have come out with sexual allegations against @mattgaetz.

Yet,

Cuomo - 9 women @ProjectLincoln - young men
Bill Clinton - we lost count
Jeffrey Epstein - the public deserves to know his blackmail list, but the deep state won't tell.

They just falsely accuse Gaetz.

-- Marjorie Taylor Greene 🇺🇸 (@mtgreenee) April 6, 2021
Archived here
How many women have publicly come out accusing @mattgaetz today?

Anyone?

Hello?

Ladies?

Oh, is it still just the media, with "allegations?"

What's not allegations is that the Biden's have always gotten rich off of energy deals in foreign countries, like Ukraine & China. 🧐

-- Marjorie Taylor Greene 🇺🇸 (@mtgreenee) April 7, 2021
Show me 1 woman who has spoken out against @mattgaetz!@andrewcuomo has been accused by 9 women of sexual misconduct.

Gaetz - 0.

This is nothing but a deep state attack and media smear fest to take him down.@gop needs to stand up.https://t.co/dHKSDGfy3U

-- Marjorie Taylor Greene 🇺🇸 (@mtgreenee) April 5, 2021