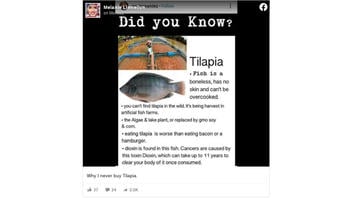 Is tilapia boneless, bad for you and can't be overcooked? No, that's not true: This meme has several false and misleading statements, though some of its original language has been toned down.
The original version surfaced on Facebook in March 2017. This post, published April 5, 2020 (archived here), is captioned:
Why I never buy Tilapia.
This is what the post looked like on Facebook on April 8, 2021:
(Source: Facebook screenshot taken on Thu Apr 8 17:13:23 2021 UTC)
The original version of this meme showed the Instagram handle of its maker, @_richgod_ and began, "Stop eating this fake ass fish.." Since then it's been tidied up, but the claims (and bad grammar) in the original post were not revised. Over the years this meme has been debunked by many fact checking outlets, nutrition experts, cooking magazines and aquaculturists.
(Source: Lead Stories comparison image from Facebook screenshots Thu Apr 8 18:45:18 2021 UTC)
Here is what Lead Stories found:
Claim: "Tilapia is boneless, has no skin and can't be overcooked."
This is not true. While frozen tilapia is frequently sold as boneless and skinless fillets, the fish have bones, skin and scales. Even the picture included in the meme shows this. The U.S. Department of Agriculture food safety chart recommends cooking fish till it reaches an internal temperature of 145 degrees. Tilapia will respond to overcooking like any other fish and become tough and dry.
Claim: You can't find tilapia in the wild. It's being harvested in artificial fish farms.
This is also not true. Oreochromine cichlids (tilapia) are native to Africa and the Middle East and still exist in the wild there. Blue tilapia, native to Northern Africa and the Middle East, has been able to establish in the wild in some U.S. bodies of water. It's currently listed as an invasive non-native species in Texas and Florida. Both Texas and Florida ask people who fish to never release any tilapia they catch. Tilapia is also raised in commercial aquaculture operations.
Claim: Natural algae lake plant feed are replaced by gmo soy & corn
Commercially farmed fish are fed a wide variety of foods, including soy and corn, which are likely to be GMO crops. Tilapia may also be fed algae as part or most of their diet. Algae can be grown on-site or the fish can be fed algae from an outside source.
Claim: "Eating tilapia is worse than eating bacon or a hamburger."
In 2008, a research paper, "The Content of Favorable and Unfavorable Polyunsaturated Fatty Acids Found in Commonly Eaten Fish," was published in the Journal of the American Dietetic Association. It got a lot of media coverage. For example, The Globe and Mail in Canada wrote, "Farmed tilapia may be no better for you than a doughnut."
Sixteen doctors specializing in fields such as nutrition, physiology, cardiology, public health and biochemistry disagreed. They co-signed a 2008 letter written by William S. Harris, Ph.D., then senior scientist and director of the University of South Dakota Sanford School of Medicine's Metabolism and Nutrition Research Center. The letter rebutted interpretations of that paper, discussing the importance of the various fatty acids, and ending with:
"

Replacing tilapia or catfish with 'bacon, hamburgers or doughnuts' is absolutely not recommended

."
The U.S. Food and Drug Administration (FDA)
lists tilapia
along with 36 other types of fish and seafood as the "best choices" of fish and recommends eating two to three servings of these fish weekly.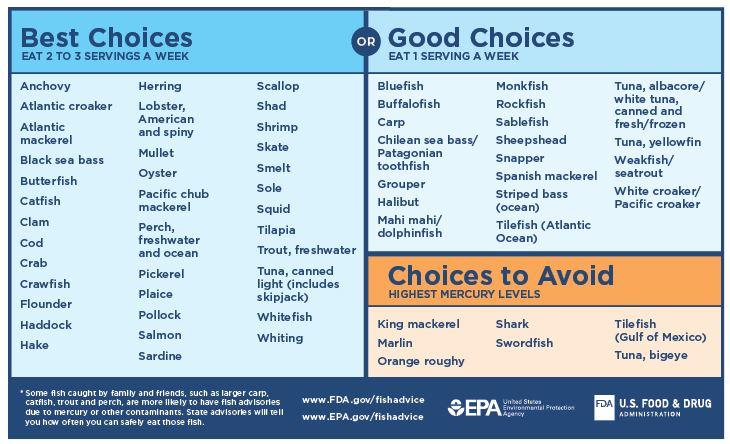 (Source: U.S. FDA screenshot taken on

Fri Apr 09 01:39:11 2021 UTC

)
Claim: Dioxin is found in this fish. Cancers are caused by this toxin Dioxin
The claim lacks context in that Dioxins are environmental contaminants present in many foods, not just tilapia. The primary path of exposure to dioxins is through food although it can also come from drinking water and environmental contamination. Dioxins can cause a number of health problems including reproductive, hormone and immune system problems as well as cancer.
The World Health Organization fact sheet on dioxins supports the mem's claim that dioxins may remain in the body long after exposure:
Once dioxins enter the body, they last a long time because of their chemical stability and their ability to be absorbed by fat tissue, where they are then stored in the body. Their half-life in the body is estimated to be 7 to 11 years. In the environment, dioxins tend to accumulate in the food chain. The higher an animal is in the food chain, the higher the concentration of dioxins.