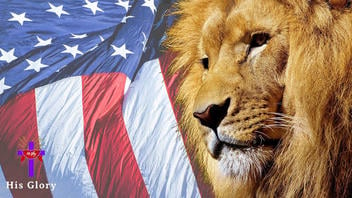 Does a video featuring Michael Flynn and Thomas McInerney contain only factual and proven statements? No, that's not true: The video recycles, without repairing, multiple false claims about COVID-19 and the 2020 election that have already been debunked. This fact-check considers seven such claims, including the allegation that COVID-19 was a "deliberate biological attack," that the vaccines for the virus will likely cause harm and that Donald Trump won the election. Neither Flynn nor McInerney offered any credible evidence to support the claims, which have been widely and repeatedly debunked.
The two generals make the claims in a video (archived here) published to YouTube on April 5, 2021. The video, which was titled "His Glory - Take FiVe: Two Generals, General Flynn and General McInerney 4/5/21," featured interviews with Retired Lt. Gen. Flynn and Retired Lt. Gen. McInerney. Toward the start of his comments, McInerney said:
The actual vote, so your listeners and viewers understand, was 79 million votes for President Trump, 68 million for [Joe] Biden, but cyberwarfare was then introduced.
Click below to watch the video on YouTube:
There's no evidence for that claim. Biden is president. In addition to winning the Electoral College vote, which Congress certified, he won the popular vote, receiving 81,284,666 votes to Trump's 74,224,319.
There's also no public evidence of widespread fraud. Trump's Attorney General William Barr declared as much in a Fox News report here. Lead Stories has covered the issue extensively since the 2020 election, which was described by the U.S. Cybersecurity & Infrastructure Security Agency (CISA) as the "most secure in American history." You can read the agency's statement here and see our stories on election fraud claims here. State and federal courts have rejected dozens of lawsuits claiming election fraud.
Below are six more claims, made by either Flynn or McInerney, paired with the Lead Stories debunks of each. Where the timecode is given, we have inserted a hyperlink to take readers directly to that portion of the video.
McInerney: Hammer and Scorecard helped flip the vote.
At 14 minutes, 53 seconds, McInerney said:
I predicted it [cyberattack] on 2 November when I found out, the first of November, that they were going to use a CIA program called Hammer and Scorecard, a special access program.
The Hammer and Scorecard is an oft-debunked election fraud conspiracy theory. See our reporting on it here. The basic idea behind the theory is that the Hammer and Scorecard are a digital platform and a web app that work together to hack into election systems and steal votes.
Before Trump fired him for disputing allegations of voter fraud, Chris Krebs, the then-head of CISA, described the theory as "nonsense" and "not a real thing."
To be crystal clear on ⬇️, I'm specifically referring to the Hammer and Scorecard nonsense. It's just that - nonsense. This is not a real thing, don't fall for it and think 2x before you share. #Protect2020 https://t.co/f2FpSbRXKy

-- Chris Krebs #Protect2020 (@CISAKrebs) November 7, 2020
McInerney: COVID-19 is a biological attack.
In the context of talking about China, at 15 minutes, 52 seconds, McInerney claimed:
You've got a deliberate biological attack followed up by massive cyberwarfare that flipped the election.
We've looked into the claim that China unleashed COVID-19 as an attack on the United States and found it completely without merit. See our reporting here. The article accusing the Chinese government of cooking up COVID-19 is not tested science; it's a self-published article produced by doctors who identify themselves as part of a political organization that specializes in embarrassing the Chinese Communist Party.
McInerney: COVID-19 isn't a problem.
His statement could perhaps be construed as an opinion, but by all objective measures, COVID-19 is a problem. At 19 minutes, 10 seconds, McInerney said:
We have a 99.2% survival rate on COVID-19 ... It's not a problem.
So far, the reported survival rate of COVID patients correlates to the person's age, underlying conditions, access to treatment and other factors. And, it's worth noting, that even with such a seemingly high survival rate, as of April 9, 2021, there were 134,321,953 confirmed active COVID-19 cases in the U.S. and 2,907,968 deaths reported worldwide. The U.S. death toll from the pandemic matches the U.S. losses in WWII, Korea, and Viet Nam, combined.
Around the start of the pandemic, in March 2020, Dr. Anthony Fauci, director of the U.S. National Institute of Allergy and Infectious Diseases, cautioned against focusing on what may look like a low mortality rate. Testifying before Congress, he said:
If you count all the cases of minimally symptomatic or asymptomatic infection -- that probably brings the mortality rate down to somewhere around 1%, which means it is 10 times more lethal than the seasonal flu.
You can watch a clip from his testimony here:
Flynn: Ivermectin is useful in treating COVID-19.
Flynn told an anecdote about siblings -- a brother and a sister -- who were both diagnosed with COVID-19 and who, he said, recovered almost immediately after taking ivermectin. He said the drug was "obviously useful." At 26 minutes, 12 seconds, Flynn added:
I'm not a doctor, but what I'm telling you is what people have told me about things that they're doing and that includes two doctors.
Ivermectin, which is frequently used to treat or prevent parasites in animals, is not approved for treating or preventing COVID-19 in humans. In fact, the U.S. Food and Drug Administration (FDA) specifically warns people not to take it for those reasons. On its website, it says:
The FDA has not reviewed data to support use of ivermectin in COVID-19 patients to treat or to prevent COVID-19; however, some initial research is underway. Taking a drug for an unapproved use can be very dangerous. This is true of ivermectin, too. There's a lot of misinformation around, and you may have heard that it's okay to take large doses of ivermectin. That is wrong.
The FDA has received multiple reports of patients requiring medical help, even hospitalization, after taking ivermectin intended for horses. Large doses of the drug can cause serious harm. Dosing is often set according to body mass. The average weight of an American is roughly 180 pounds. Depending on the breed, horses weigh five to ten times that.
McInerney similarly voiced support for ivermectin, as well as for hydroxychloroquine, another unproven drug that has been touted by some as a cure for COVID-19. It's not. See our previous reporting on the FDA's withdrawal of approval for hydroxychloroquine after early testing here. At the time of writing, the FDA has approved one drug, remdesivir (Veklury), to treat COVID-19. According to the U.S. Centers for Disease Control and Prevention (CDC), the best remedy is prevention.
Flynn: A fictional pandemic scenario may be proof the pandemic was planned.
At 26 minutes, 29 seconds Flynn started talking about a video made by well-known conspiracy theorist Alex Jones. See our debunk of that video here. Jones basically tried to make the case that the existence of a fictional pandemic exercise scenario proves that the COVID-19 pandemic is a globalist plot for world domination.
At 27 minutes, 32 seconds, Flynn said:
Alex takes his audience through an hour and a half worth of just incredible level of detail of a wargame that our government did back in the 2016, 2017 timeframe -- under a different name, and they called it SPARS, instead of SARS -- COVID, right? ... It runs parallel to everything that's going on today.
Calling it "one big setup," Flynn implied that the similarities between the "wargame" and the current pandemic raise red flags. He failed to acknowledge that it was all made up, right down to the name of the virus. The SPARS Pandemic scenario book (PDF) from the Johns Hopkins Center for Health Security outlines a hypothetical scenario.
McInerney: COVID-19 vaccines will likely cause harm.
At 41 minutes, 2 seconds, McInerney said:
We have a very high confidence that this vaccine is going to have a huge deleterious impact on the American population, on the global population.
There's no public evidence that's true and even former president Donald Trump has publicly said people should get vaccinated, as he did.
Global health experts widely agree that the vaccines represent one of our best hopes of emerging from the pandemic. The shots have been tested in pre-approval trials and monitored since and found to be safe and effective. According to the CDC, millions of people have received COVID-19 vaccines, and no long-term side effects have been detected. Common side effects include pain and swelling at the injection site, headaches, and fatigue.