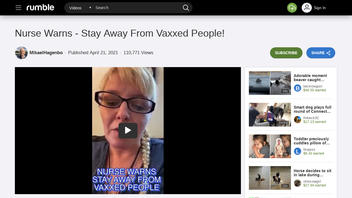 Should unvaccinated people stay away from vaccinated people because the COVID-19 vaccine sheds and causes problems including miscarriages in pregnant unvaccinated people? No, that's not true. "This claim is false," Dr. George Rutherford, professor of epidemiology and biostatistics at the University of California at San Francisco's School of Medicine, told Lead Stories.
The claim appeared in a video published by Rumble on April 21, 2021 titled "Nurse Warns - Stay Away From Vaxxed People!" (archived here) that opened:
DEPOPULATION AGENDA IN FULL SWING WARNING DO NOT COME NEAR VAXXED PEOPLE https://www.bitchute.com/video/ivXWTuAmROnb/
Users on social media only saw this title, description and thumbnail:
DEPOPULATION AGENDA IN FULL SWING WARNING DO NOT COME NEAR VAXXED PEOPLE https://www.bitchute.com/video/ivXWTuAmROnb/

The video by a woman named Nic Stinson, who claims to be a nurse on her Instagram account, without listing credentials or her nursing workplace, perpetuates many COVID-19 myths that Lead Stories has previously debunked. Warning: Stinson uses offensive language throughout the video, telling people, for example, to "stay the hell away from these zombified ______s," using a slur that refers to developmentally disabled persons to degrade people who have had the COVID-19 vaccine. The first principle of the Nursing Code of Ethics is: "The nurse practices with compassion and respect for the inherent dignity, worth, and personal attributes of every person, without prejudice."
Stinson uses the terms "bax, baxxed, baxxinated or schmaxxed" to avoid saying "vaccine," as many social media platforms will remove false vaccine information.
Stinson claims in the video, "There is a risk of people having stillborn or damaged fetuses if they're around people who have had this 'bax,' because it can affect and cause miscarriages."
Rutherford told Lead Stories via email on April 23, 2021 that, "The vaccines that have been authorized for use in the United States are not capable of replicating and producing viruses that can be shed. They do not have the full complement of genetic material to make whole viruses -- just the spike proteins."
Dr. Otto Yang, whose specialty is infectious disease at UCLA, explained over the phone on April 22, 2021, why the virus does not "shed." "After you get the vaccine you are not making the virus," he said. "You are making the spike protein only and no other components of it. There is nothing to shed, there are no viral particles coming out." He said:
There is no evidence that spike itself causes a problem. There has been plenty of data of pregnant women who have had COVID, which means they're full of the spike protein. A pregnant woman is at a much much higher risk of death from the virus but it does not appear to cause problems in the babies. The virus doesn't seem to cross the placenta. Very rare for a baby to be infected. If the virus is not crossing the placenta, the spike itself is not spiking."
In the video Stinson also claimed, "There is no way of knowing how long that it [protection by the vaccine] lasts. ... There is no way of knowing if the human body will ever shut off this mechanism of producing this spike protein. So the people that get this vaccine may produce these spike proteins forever. It may never be safe to go near them again."
Yang told Lead Stories this was false too:
RNA lasts minutes to hours. You won't be producing spike protein for very long. It is long enough to give you an immune response. The immune system doesn't have to see something very long, it just has to see it to get exposed and react. The cells that are reacting start making copies of themselves.
Stinson claims the virus is "in fact altering the human makeup of the body." Lead Stories previously debunked that claim here.