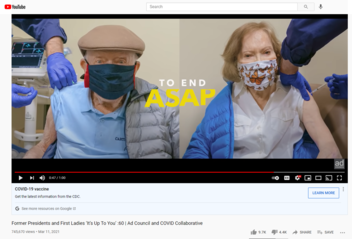 Did President Joe Biden and first lady Jill Biden put former President Jimmy Carter and former first lady Rosalynn Carter at risk by not wearing masks inside the Carters' home? No, that's not true: Although the Centers for Disease Control and Prevention generally recommends wearing face coverings for maximum protection against COVID-19, fully vaccinated individuals like the Carters and the Bidens were within CDC guidelines when this photo was taken. The Bidens visited the Carters in Georgia on April 29, 2021, when this maskless picture was taken. It was shared by the Carter Center on its Twitter account.
The claim appeared on several social media platforms but was shared widely on Instagram, like this post (archived here) on May 4, 2021. It featured a screenshot of a tweet that read:
Can anyone explain the Science behind wearing a mask when outdoors walking alone but then taking it off indoors when practically sitting on the laps of people in their 90's?
The caption stated:
Somebody PLEASE for the love of God make it make sense 😫
This is what the post looked like on Instagram on May 5, 2021:
(Source: Instagram screenshot taken on Wed May 5 21:20:44 2021 UTC)
The CDC updated its interim public health recommendations on April 27, 2021, (archived here) to state that fully vaccinated individuals do not have to wear a mask outdoors unless they are in certain crowded spaces. The updated recommendations also say fully vaccinated people from different households can interact with one another without wearing masks or social distancing while indoors. There are no age stipulations regarding these recommendations.
Jimmy Carter, 96, and Rosalynn Carter, 93, have been fully vaccinated, even attending in-person church service and joining a COVID-19 vaccination education campaign by the Ad Council and COVID Collaborative. In an email to Lead Stories on May 5, 2021, the Carter Center directed us to images of the Carters' participation in one of the vaccination education campaign's videos. A screenshot from the 47-second mark of that video is included below:
(Source: YouTube screenshot taken on Wed May 5 21:30:54 2021 UTC)
Biden, who also took part in the campaign, publicly broadcast himself receiving his first and second doses of the Pfizer-BioNTech vaccine; Jill Biden also received both doses of the vaccine.
The Carter Center advised Lead Stories to speak with White House representatives regarding questions about the Bidens and said that a White House photographer was present when the two couples met. As of May 5, 2021, the official online photo archive of the White House did not include pictures from the visit. Lead Stories contacted the White House to confirm whether the Carters and/or the Bidens wore masks inside the Carters' residence and will update the story if we receive a response. However, there is video evidence of the Bidens wearing masks while leaving the Carters' home.
Lead Stories has written several fact checks about the novel coronavirus, CDC guidelines and COVID-19 vaccines.