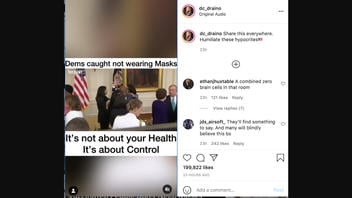 Were Democrats "caught" not wearing masks at the White House? No, that's not true: They were not wearing masks at a May 20, 2021, event at the White House because they were following the Centers for Disease Control guidelines. As of May 13, 2021, the CDC said vaccinated individuals could gather indoors without masks.
The claim appeared in a video (archived here) on Instagram by Rogan O'Handley on May 20, 2021. It opened:
Share this everywhere. Humiliate these hypocrites🇺🇸
Social media users saw this:
President Joe Biden hosted an event in the East Room of the White House on May 20, 2021, where guests were not required to wear masks if they were fully vaccinated, per the CDC guidelines. Sixty-eight people attended, along with several dozen staff and journalists, the Wall Street Journal reported. Biden signed a bill at the event that focused on the rise in hate crimes against Asian Americans.
The caption on the video says, "Dems caught not wearing Masks. It's not about your Health It's about Control."
Democrats and Republicans were in the room without masks, including Sens. Susan Collins, R-Maine; Mazie Hirono, D-Hawaii, and Georgia Democrats Raphael Warnock and Jon Ossoff. House Speaker Nancy Pelosi, D-Calif., was also there. As of May 21, 2021, the House of Representatives still requires masks in the House chamber because multiple representatives have not gotten the COVID-19 vaccine.
According to the Wall Street Journal:
A White House official said guests were told that fully vaccinated individuals didn't have to wear masks. All others were instructed to wear masks and socially distance. Attendees were tested or had to provide proof of a negative Covid-19 test.
Collins spoke to the Wall Street Journal about being in the White House without masks under relaxed guidelines.
'The nicest part is being able to shake hands again and to see people's smiles,' especially at an event marking a bipartisan bill. She joked that there were some people there, like White House counselor Steve Ricchetti, 'who I've known for many years, but I almost didn't recognize him without his mask!'
On May 13, 2021, the CDC released the Interim Public Health Recommendations for Fully Vaccinated People:
... fully vaccinated people no longer need to wear a mask or physically distance in any setting, except where required by federal, state, local, tribal, or territorial laws, rules, and regulations, including local business and workplace guidance."
"Anyone who is fully vaccinated can participate in indoor and outdoor activities, large or small, without wearing a mask or physical distancing," said the CDC Director Dr. Rochelle Walensky on May 13, 2021, according to CNBC. "If you are fully vaccinated, you can start doing the things that you had stopped doing because of the pandemic. We have all longed for this moment, when we can get back to some sense of normalcy."