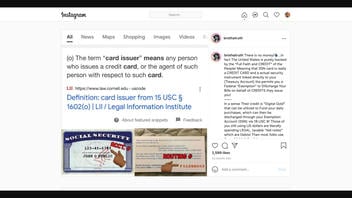 Can your Social Security card be used like a credit card? No, that's not true: The Federal Reserve Bank deals with banks only, not serving individual customers. The FBI is aware of this false claim, and people who try to extract money from the Federal Reserve could face criminal charges.
The claim appeared in an Instagram post (archived here) where it was published on May 20, 2021. The post was a screenshot of the definition of "card issuer" from Cornell Law School. Underneath the definition were pictures of the front and back of a Social Security card. The picture of the front has a hand pointing to a fake Social Security number with "ACCT. #" in bold, red letters. The picture of the back of the card has a hand pointing to a combination of stamped letters and numbers with "ROUTING #" above it. It opened:
There is no money!🤷🏾‍♂️...In fact The United States is purely backed by the 'Full Faith and CREDIT' of the People! Meaning that SSN card is really a CREDIT CARD and a actual security instrument linked directly to your [Treasury Account] the permits you a Federal 'Exemption' to DIScharge Your Bills on behalf of CREDITS they issue you! ----- - In a sense Their credit is 'Digital Gold' that can be utilized to Fund your daily purchases, which can then be discharged through your Exemption Account (SSN) via 18 USC 8! Those of you still using US dollars are literally spending LEGAL, taxable 'fed notes' which are Debts! Then most folks use those [debt dollars] to pay on your other Debts😳; meaning you're literally INCREASING the national debt every time you shop because you never eliminated the initial debt😩
According to the Federal Reserve's website, the Federal Reserve Banks only provide financial services to banks and governmental entities.
The website addresses this specific claim:
A recent hoax circulating on the internet asserts that the Federal Reserve maintains accounts for individuals that are tied to the individual's Social Security number, and that individuals can access these accounts to pay bills and obtain money. These claims are false. The Federal Reserve does not maintain accounts for individuals, and individuals should not attempt to make payments using Federal Reserve Bank routing numbers or false routing numbers.