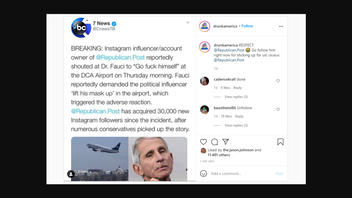 Did an Instagram influencer shout an expletive at Dr. Anthony Fauci, director of the National Institute of Allergy and Infectious Diseases, after Fauci told the influencer to lift up his mask at an airport? No, that's not true: the claim was made in a fake tweet and there is no evidence that Fauci has been to any airport since the start of the COVID-19 pandemic in the U.S.
The claim appeared in an Instagram post (archived here) that was published on May 2, 2021. It featured a tweet that read:
BREAKING: Instagram influencer/account owner of @Republican.Post reportedly shouted at Dr. Fauci to "Go f**k himself" at the DCA Airport on Thursday morning. Fauci reportedly demanded the political influencer 'lift his mask up' in the airport, which triggered the adverse reaction.
@Republican.Post has acquired 30,000 new Instagram followers since the incident, after numerous conservatives picked up the story.
The caption of the post read:
RESPECT @Republican.Post 😂 Go follow him right now for sticking up for us! 🇺🇸🇺🇸🇺🇸 @Republican.Post
This is what the post looked like on Instagram at the time of writing: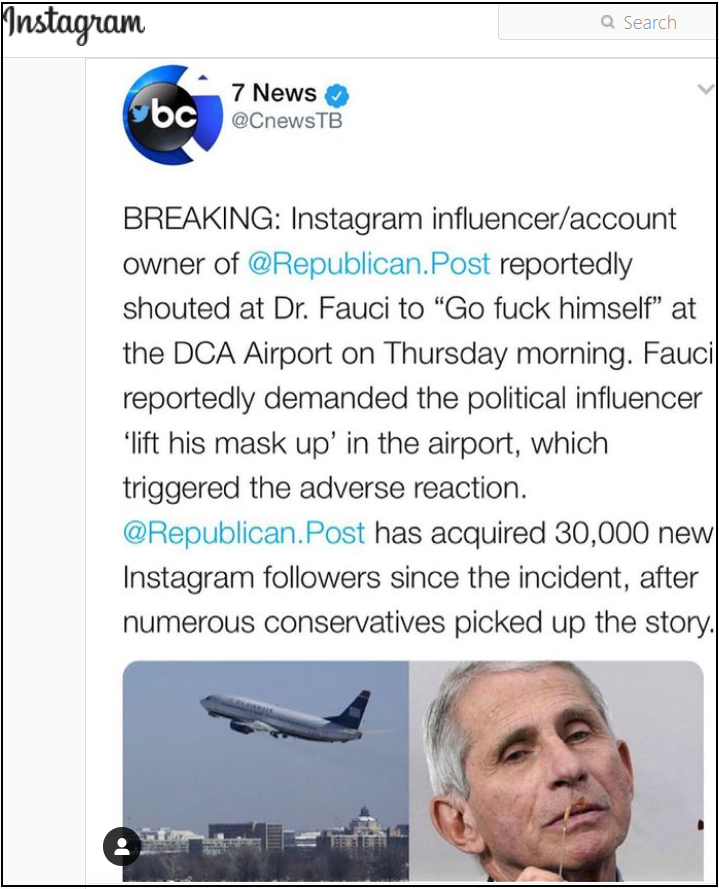 (Source: Instagram screenshot taken on Tue May 4 16:53:17 2021 UTC)
The tweet, which is fake, is attributed to the Twitter parody account @CnewsTB. Contrary to what the Instagram image portrays, @CnewsTB is not a verified account. Advanced Twitter searches of tweets from the account did not bring up any matching or similar tweets. Lead Stories searched for the terms "Fauci," "Instagram" and "@Republican.Post" and found no relevant results. Additionally, the fake tweet contained more than 400 characters in text alone, which is more than Twitter's 280-character limit for tweets.
In an email to Lead Stories on May 4, 2021, NIAID confirmed that the incident described in the fake tweet is fabricated:
Dr. Fauci has not been in any airports since before the pandemic. This didn't happen.
Fauci has said that his social distancing habits have not changed since getting vaccinated against COVID-19 with the Moderna vaccine and said that he does not plan to travel while stringent guidelines for COVID-19 prevention are still in place.
At the time of this writing, the Instagram page @Republican.Post was set to private and required potential followers to follow another account before being accepted as a follower. The bio for @Republican.Post also stated that "for legal purposes" the page's content was satire.