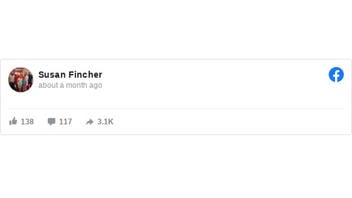 Was a 4-year-old child kidnapped in an Omaha Sam's Club, only to be found assaulted in the store's bathroom stall? No, that's not true: There is no evidence the incident took place and police in Omaha have flagged the oft-recycled story as an urban legend.
The claim, which has appeared on the Internet with varying details for at least two decades, reappeared in a Facebook post (archived here) published on April 7, 2021. It opened:
Parents. Please read.
SO SAD THIS IS HAPPENING MORE AND MORE
For anyone who has small children in their family.
Forwarded from a Sam's Club employee.
The post proceeds to give a detailed account of a child kidnapping that supposedly occurred in an Omaha Sam's Club location. The author of the claim said they alerted employees that a fellow shopper's 4-year-old daughter Katie was missing. The employees announced the incident over the store's loudspeakers, locked the doors of the store and, after conducting a search, located Katie five minutes later in a bathroom stall. The post said:
Her head was half shaved, and she was dressed in her underwear with a bag of clothes, a razor, and wig sitting on the floor beside her to make her look different.
The second part of the post is a message attributed to an unnamed employee at a Sam's Club location in Lincoln, Nebraska. It detailed the procedure, called "Code Adam," that Sam's Club employees use to locate missing children in their stores.
This is what the post looked like on Facebook on May 7, 2021:
(Source: Facebook screenshot taken on Fri May 7 19:53:55 2021 UTC)
A full-length screenshot of the post is below: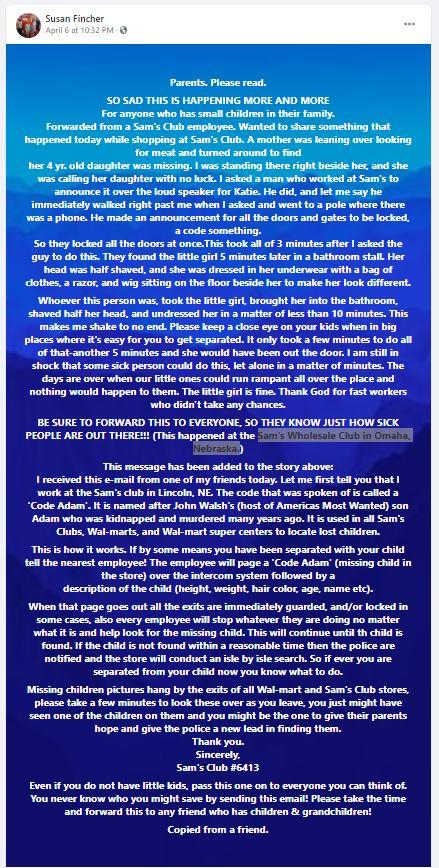 (Source: Facebook screenshot taken on Fri May 7 14:50:46 2021 UTC)
According to Lt. Neal Bonacci from the public information office of the Omaha Police Department, multiple versions of the story have been published on the Internet for years. In a phone call with Lead Stories on May 7, 2021, Bonacci said that leadership within the department previously contacted officers about the claim, noting that many of the details like location and the circumstances the child was found in were tweaked depending on where the claim appeared. He verified that the claim was solidly false.
However, Code Adam is a real program that is currently sponsored by Old Navy and used by several major retailers to locate children who have gone missing in public spaces. The code is named in memory of 6-year-old Adam Walsh and was launched by the National Center for Missing & Exploited Children, which was founded by Adam's parents John and Revé Walsh. The program does advise that entrances and exits be monitored when a child goes missing. However, the code's guidelines do not state that entrances and exits to the store should be locked (more resources here).
Lead Stories reached out to Walmart's corporate communications team to verify whether its Sam's Club locations, which are a division of Walmart, use Code Adam. We will update this story if we receive a response.