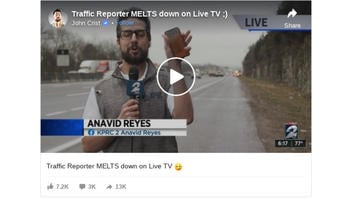 Did a traffic reporter "melt down" on live TV, first correcting the anchors' pronunciation of his name and then expressing annoyance to the news anchors about how live roadside traffic reporting is obsolete? No, that's not true: This is a comedy skit by John Crist. The video opens with a short clip from a real channel 2 Houston newscast. The spoof is made to look real by Crist's use of a microphone flag bearing the Channel 2 logo, his fleece vest bearing the logo, plus a reproduction of the station's "live" chyron with the name of the station's real traffic anchor, Anavid Reyes.
The video appeared in a Facebook post (archived here) by John Crist on February 1, 2021, with the caption:
Traffic Reporter MELTS down on Live TV
This is what the post looked like on Facebook on May 7, 2021:
(Source: Facebook screenshot taken on Fri May 7 14:38:57 2021 UTC)
Crist's Facebook page and YouTube channel leave no doubt about the fact that he is a comedian. His channel's description says:
Honestly where have you BEEN?? Welcome to the official YouTube home of standup comedian John Crist, featuring weekly sketches uploads, Crist's new show One Take, and of course award winning standup comedy! Good times guaranteed.
This video opens with a scene of the KPRC Channel 2 news desk as anchors Kris Gutierrez and Dominique Sachse talk about the upcoming weekend. Sachse then throws to "... our new traffic anchor Anavid Reyes" for "a look at this weekend's traffic." Reyes is a real traffic reporter at KPRC 2 who started there in April 2020. Below is the profile picture of the real Reyes from her KPRC Facebook page, where she looks nothing like the imposter, Crist, posing as a male reporter named Anavid on YouTube.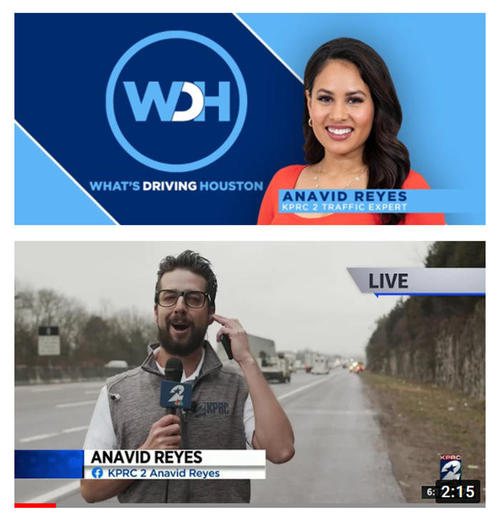 (Source: Facebook and YouTube Screenshots Fri May 07 16:19:20 2021 UTC)
Other clues that it's a composite of graphics from KPRC superimposed on low-quality video to create a spoof: Crist, catching the throw from Dominique Sachse, says "Thanks Veronia" and the clock under the logo in the lower right hand corner of the stream stays stuck at 6:17, though the video is two minutes and 15 seconds long.
Reporting by truthorfiction.com about Crist's traffic reporting skit noted that Crist had produced a similar video "Weather Man MELTS down on live TV" in November 2020.