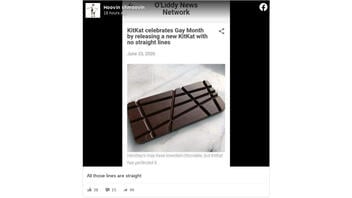 Did Kit Kat release a diagonally cut, "not straight" candy bar to celebrate Pride Month? No, that's not true: the manufacturers of Kit Kat candy bars (the Hershey Company in the United States and Nestlé around in the world) confirmed with Lead Stories that they have no record of such a product.
The claim, which may have originated from a meme posted to Reddit in June 2020, reappeared in a Facebook post (archived here) published on May 17, 2021. The text in the meme, which was attributed to O'Liddy News Network, stated:
KitKat celebrates Gay Month by releasing a new KitKat with no straight lines.
Underneath the picture of a diagonally cut candy bar used in the meme, a description stated:
Hershey's may have invented chocolate, but KitKat has perfected it.
This is what the post looked like on Facebook on May 18, 2021:
(Source: Facebook screenshot taken on Tue May 18 16:13:25 2021 UTC)
Lead Stories could not locate the source of the original image nor could we find any information about O'Liddy News Network. Using the reverse image search feature on Yandex, Google Images and TinEye, matching images of the meme led to similar posts about Kit Kat's support of Pride Month.
The brand name "Kit Kat" which is typically featured on the layer of chocolate on the outside of the candy bar (as seen on the Kit Kat website), was not present in the picture of the candy bar used in the meme. Additionally, as the Facebook user who posted the meme implied in the caption of the post ("All those lines are straight"), diagonal lines are straight lines.
The claim that Hershey invented chocolate is also not true. Chocolate has been consumed in a variety of forms for thousands of years, although the creation of the first mass-produced chocolate candy bar is attributed to Joseph Fry, who developed it in 1847.
In emails to Lead Stories on May 18, 2021, representatives from both Hershey and Nestlé said that the claim in the meme is unfounded. Anna Lingeris, the earned media & brand publicity lead for Hershey, said:
As you pointed out in your note Nestle is the global manufacturer of the Kit Kat brand. The Hershey Company licenses and manufacturers the Kit Kat brand in the US. I can only speak for the US but can confirm that this product is not something that we launched or is available in the US.
Michael Jennings, the senior corporate spokesperson for Nestlé S.A., said:
I saw this cropping up and am trying to check this, too, but I can say that I had not previously heard anything about this internally and can find no record of this on our websites.
Jennings also said that he would reach back out to Lead Stories with any other additional information. We will update this story, as appropriate, with any new developments.