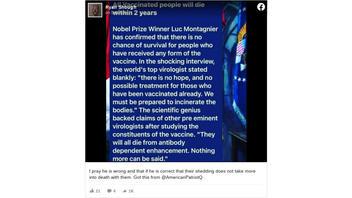 Did Nobel laureate Luc Montagnier say that all vaccinated people will die within two years? No, that's not true: Montagnier, a prominent virologist, is a Nobel Prize winner who in recent years has said some controversial things, but he did not say this. Montagnier was interviewed by Pierre Barnérias, the director of an anti-vaccine conspiracy documentary produced by Hold-Up Media which was released on November 11, 2020. In this short video Barnérias talks with Montagnier who expresses his current concerns about vaccines causing antibody dependent enhancement (ADE) and that this would result in new variants of the COVID-19 virus. Montagnier did not say that all vaccinated people will die within two years, and that there is no hope and we must prepare to incinerate the bodies.

The claim began with a May 18, 2021, "Bombshell" post from the RAIR Foundation. The post presented a shortened clip of the French-language Hold-Up Media interview that had been posted about a week earlier on May 12, 2021. The RAIR Foundation added English-language subtitles and its watermark to the video. Later someone added a false caption that attributed statements not said in the original video or in the subtitles. Screenshots of the false caption and video thumbnail were circulated as a meme image on WhatsApp. Other memes were developed from that, such as this post (archived here) published on Facebook on May 22, 2021, with the caption, "I pray he is wrong and that if he is correct that their shedding does not take more into death with them. Got this from @AmericanPatriotQ". The text on the meme read:
All Vaccinated people will die within 2 years Nobel Prize Winner Luc Montagnier has confirmed that there is no chance of survival for people who have received any form of the vaccine. In the shocking interview, the world's top virologist stated blankly: 'there is no hope, and no possible treatment for those who have been vaccinated already. We must be prepared to incinerate the bodies.' The scientific genius backed claims of other pre eminent virologists after studying the constituents of the vaccine. "They will all die from antibody dependent enhancement. Nothing more can be said.
This is what the post looked like on Facebook at the time of writing:
(Source: Facebook screenshot taken on Wed May 26 14:07:11 2021 UTC)
After the May 18, 2021, "Bombshell Nobel Prize Winner Reveals - Covid Vaccine is 'Creating Variant'" post that attracted much attention, RAIR Foundation posted a follow-up to clarify. The second article from May 25, 2021, was titled, "ALERT: Luc Montagnier Did NOT Say Vaccine Would Kill People in Two Years - Here's What he DID Say (Video)."
It is unclear who is behind the fabricated false quote attributed to Montagnier, but RAIR maintains that "vaccine coercion activists" are taking advantage of the situation whether or not they were responsible for it:
Lies about French Virologist Luc Montagnier have been circulating online after an article posted at RAIR Foundation USA went viral. Social media activists are spreading a vicious rumor that the Nobel Laureate claimed those who take the coronavirus vaccine will be dead in two years.
Below is an example of a screenshot of the subtitled video with the false caption attached.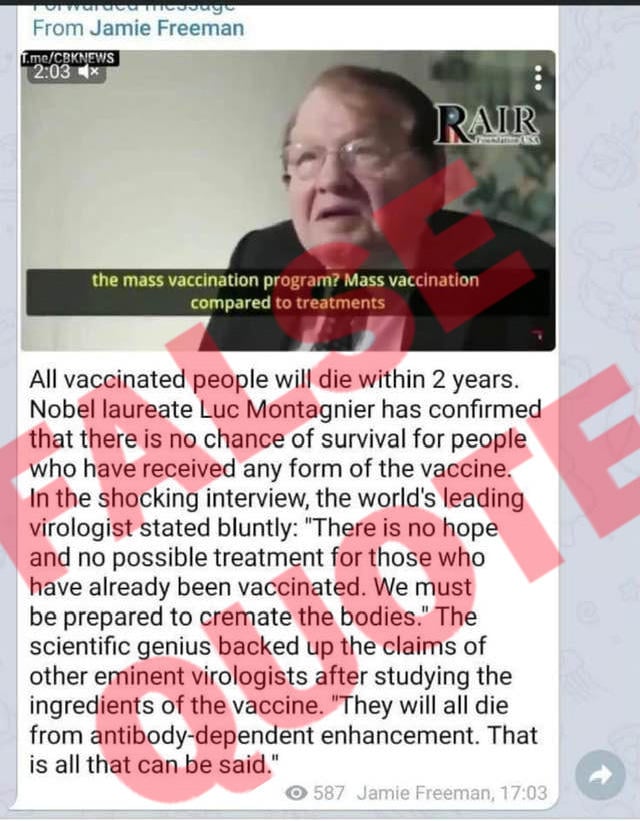 (Source: Facebook screenshot taken on Wed May 26 19:27:00 2021 UTC)