STORY UPDATED: check for updates below.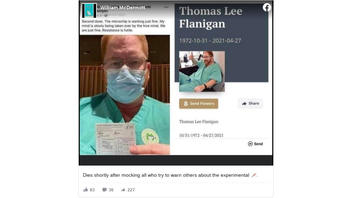 Did a surgeon from Ohio die shortly after receiving the second dose of the COVID-19 vaccine? There is no evidence that Dr. Thomas Lee Flanigan's death on April 27, 2021, was related to the COVID-19 vaccine he had received 12 weeks earlier.
The cause of his death has not been made public. Flanigan's death was reported by several news outlets after it appeared he had written his own obituary. None of those news stories contain any information about the cause of his death, and a Toledo TV station reports it was friends of Flanigan who wrote the obituary.
On January 6 and February 3, 2021, Flanigan had posted on Facebook after receiving his first and second vaccines. In the photos he is wearing scrubs with a vaccine sticker, a face mask and is holding his vaccination record card. As a front-line health care worker, he was in the first group of Ohioans to receive the COVID-19 Vaccine.
Anti-vaccine activists are circulating screenshots of Flanigan's vaccine selfies and of his funeral home memorial page as "proof" that the vaccine caused his death.
One example of a claim appears in a Facebook post (archived here) by William McDermott on May 5, 2021, with the caption, "Dies shortly after mocking all who try to warn others about the experimental [vaccine emoji]." The post contains two screenshots side by side. One shows Flanigan's February 3, 2021, post, which was captioned:
Second dose. The microchip is working just fine. My mind is slowly being taken over by the hive mind. We are just fine. Resistance is futile.
The other screenshot is the page from the funeral home where Flanigan's obituary appears.
This is what the post looked like on Facebook on May 6, 2021:
(Source: Facebook screenshot taken on Thu May 6 17:46:42 2021 UTC)
The poster's description of the vaccine as "experimental" misstates the status of the vaccine and misleads readers about the nature of science. The COVID-19 vaccines are approved, tested medical injections and only experimental in the sense that every medical treatment is subject to changes in use as evidence accumulates over time. Here's the FDA's detailed description of the emergency process used to select the most promising COVID-19 vaccines and test them to determine if the benefits outweigh any documented risks.
The caption with Flanigan's post about the first dose of the vaccine introduced his mocking of conspiracy theories about microchips on January 6, 2021. He wrote:
I did it for the free orange juice. I'm pretty sure the needle was like a foot long. The good news is that I didnt feel the microchip going in but I can hear local radio stations now.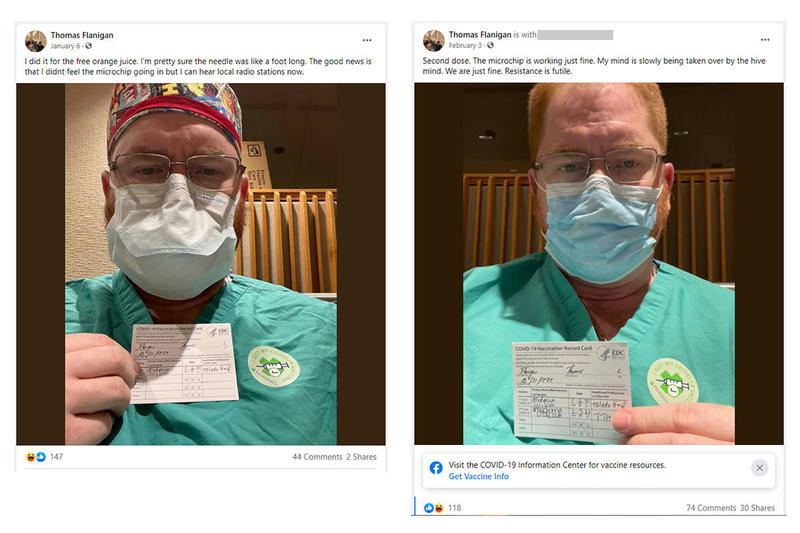 (Source: Facebook screenshot taken on Thu May 6 18:15:22 2021 UTC)
He posted about getting the second dose of the COVID-19 vaccine on February 3. Twelve weeks later, on April 27, 2021, he died.
Several days later, the story of the surgeon's unusually lighthearted obituary began to circulate. The Dailymail.co.uk published an article on May 3, 2021, titled, "'I have completed my shift as the great American cliché: Surgeon and Army veteran pens incredible obituary to himself before his death aged 48.'" That same day the nypost.com published, "Surgeon, 48, pens incredible obituary to himself before his death." Legacy.com has the full text of the obituary, which begins:
Well, that's it. I have completed my shift as the great American cliché. In the spirit of what turned out to be my last New Year's letter, my wild and crazy life has again taken a new, unexpected turn with my shocking and unexpected, yet fabulous, exit. Yes, I have joined the likes of Princess Diana, John Belushi, and Steve Irwin the Crocodile Hunter in leaving while still at the top of my game as an iconic superhero who seemed almost too good to be true.
Toledo, Ohio, Channel 13 aired an interview on May 6, 2021, with friends of Flanigan's who claim they wrote the obituary for him, using materials from his humorous New Year's letters and other sources. "We were very selective in making sure the sentences we had in it were sentences that he actually would have said or did actually say," Dan Forthoffer told Channel 13.
McDermott's personal Facebook profile (facebook.com/vac.rea.1), which posts the screenshots taken from Flanigan's Facebook timeline and memorial page, promotes an anti-vaccine app called "Vaccine Adverse Reactions." The baseless claim that Flanigan's death was caused by the vaccine has caused anti-vaccine activists to leave comments, some spiteful, on mentions of Flanigan's life or obituary.
2021-06-07T18:13:56Z

2021-06-07T18:13:56Z

At the time this article was originally published on May 7, 2021 the cause of Dr. Thomas Lee Flanigan's death was unknown. On May 20, 2021 usatoday.com published an article, "Fact check: Ohio doctor who joked about shots didn't die from COVID-19 vaccine" which reported: "Earlier reports about Flanigan's April 27 death said he died of an undetermined medical problem. But his wife told USA TODAY that Flanigan died from an undiagnosed aortic dissection."

2021-05-07T19:19:12Z

2021-05-07T19:19:12Z

Updated to add Toledo, Ohio Channel 13's debunk of the self-written obituary narrative.