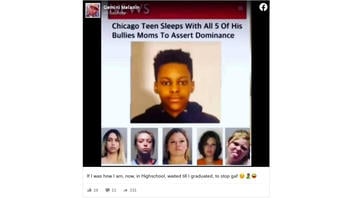 Did a teen make headlines for sleeping with his bullies' mothers to "assert dominance"? No, that's not true: the claim is just a part of a refurbished meme that has circulated on social media platforms since at least 2019.
The claim appeared in a Facebook post (archived here) using an image of a Black youth. Five women are also pictured at the bottom of the meme, suggesting that they are the mothers who the teen allegedly slept with. The text in the meme read:
Chicago Teen Sleeps With All 5 Of His
Bullies' Moms To Assert Dominance
This is what the post looked like on Facebook on May 25, 2021:
(Source: Facebook screenshot taken on Tue May 25 17:31:34 2021 UTC)
A Google search of the headline used in the meme led to more postings of the meme. Using reverse image searches on Yandex, Google Images and TinEye, Lead Stories could not identify the person whose image was used in this version of the meme. However, we did find that at least three of the women featured at the bottom of the meme matched publicly available mugshots collected in arrests unrelated to revenge on bullies (here, here and here).
The earliest version of the meme dates back to at least October 2019 (embedded below):
This version features the mugshot of English teen William Cornick. Cornick was 15 years old when he was accused of stabbing his Spanish teacher seven times during class, which led to her death.
A search of the BBC's website results did not show any story with the headline used in the meme. There have been several variations of the meme, with conflicting details and other images used in place of Cornick's image. More instances of the meme are included below:
There is even a variation of the "Chicago teen" version of the meme: