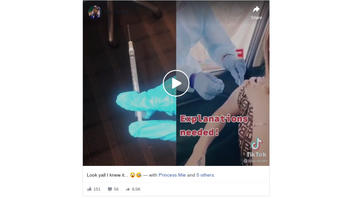 Does this video show a nurse pretending to administer a shot to a person at a drive-through vaccine clinic? Or could it be that the nurse inserts the needle into the woman's arm and leaves it there? No, neither of these explanations tell what is really happening. This is a retractable needle syringe: After the plunger is depressed, a spring causes the needle to retract inside the barrel. This design is to help protect against accidental needlestick injuries.
The doubts were shared with a TikTok video and a duet response, using the TikTok function that allows users to respond to video content with a second video side by side. The duet video appeared in a Facebook post (archived here) published on May 19, 2021, with the caption:
Look yall I knew it...
This is what the post looked like on Facebook on May 20, 2021:
(Source: Facebook screenshot taken on Thu May 20 18:00:37 2021 UTC)
The original video by Notoput, from April 18, 2021, (shown in the right-side panel) says, "Explanations needed!" That same account, which publishes many videos of people getting vaccines, published a similar video on May 17, 2021, which said:
Explanations Needed!
Already EXPLAINED in the comments of the original video
The post also includes the hashtags: #covid19 #retractableneedle
Another TikTok user, bby.maite, made a duet video on April 21, 2021 that includes Notoput's original video on the right side and in the left-side panel an additional video showing someone demonstrating how the retractable needle syringe works. It is not clear if this duet video was intended to clarify how these safety syringes work -- or if the intention was to add to some people's confusion and fear surrounding COVID-19 vaccines. The caption with the crying and facepalm emojis just said: "#duet with notoput it retracts 😭🤦🏻‍♀️"
The caption with the addition shared on Facebook on May 19, 2021, "Look yall I knew it...
" seems to point to the latter.
Embedded below is a video demonstrating how the Vanishpoint Syringe functions. Vanishpoint is a name brand and one of several makers and designs of retractable point syringe. The manufacturer of the syringes that appear in the videos is not readily apparent.
Lead Stories has written about confusion about safety syringes in the past. Some of the retractable syringe designs cause a small amount of the remaining liquid to leak out after the needle retracts.