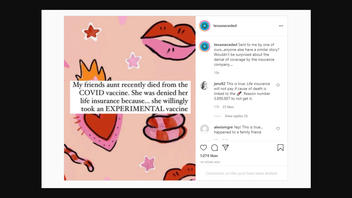 Is life insurance unavailable for a claimant who passes away due to taking an "experimental" COVID-19 vaccine? No, that's not true: COVID-19 vaccines have been approved for emergency use authorization (EUA) and life insurers do not penalize claimants who have received these vaccines.
The claim appeared in an Instagram post (archived here) published on May 19, 2021. The text in the post's image reads:
My friends aunt recently died from the COVID vaccine. She was denied her life insurance because... she willingly took an EXPERIMENTAL vaccine
The post's caption read:
Sent to me by one of ours...anyone else have a similar story? Wouldn't be surprised about the denial of coverage by the insurance company....
This is what the post looked like on Instagram on May 20, 2021:
(Source: Instagram screenshot taken on Thu May 20 16:31:20 2021 UTC)
According to the National Institute of Allergy and Infectious Diseases, COVID-19 vaccines were "experimental" during their preclinical and clinical experimental trials. Lead Stories contacted the FDA to verify whether the vaccines are officially "experimental," and a spokesperson said they would look into the inquiry further. We will update the story, as appropriate, when they respond.
The FDA has published detailed information about the EUA process, and Lead Stories has previously explored how the process works. For information about vaccine development, visit the FDA's "Vaccine Development - 101" page.
Posts that call the vaccine "experimental" could mislead readers about the nature of science and of the vaccine regulatory process. The COVID-19 vaccines are approved, tested medical injections that passed safety testing on tens of thousands of people before getting expedited approval in the face of a fast-spreading pandemic.
The vaccines are only experimental in the sense that safety data is continually collected on most drugs and vaccines and best medical practices are subject to changes as evidence accumulates over time. Here's the FDA's detailed description of the emergency process used to select the most promising COVID-19 vaccines and test them to determine that their documented preventive effects outweigh documented risks.
In an email to Lead Stories on May 20, 2021, Whit Cornman, director of media relations for the American Council of Life Insurers (ACLI), answered the question of whether the family of someone who dies from getting a COVID-19 vaccine can or cannot claim life insurance:
There has been entirely false information spreading about life insurers and Covid.
He referred us to a March 12, 2021, press release from ACLI that stated:
American Council of Life Insurers (ACLI) Senior Vice President, Policy Development Paul Graham issued the following statement on social media misinformation relating to COVID-19 vaccines:

'A social media post appears to be behind the spread of entirely false information, suggesting a COVID-19 vaccine could be a factor a life insurer considers in the claims-paying process.

'The fact is that life insurers do not consider whether or not a policyholder has received a COVID vaccine when deciding whether to pay a claim.

'Life insurance policy contracts are very clear on how policies work, and what cause, if any, might lead to the denial of a benefit. A vaccine for COVID-19 is not one of them.

'Policyholders should rest assured that nothing has changed in the claims-paying process as a result of COVID-19 vaccinations.

'Policyholders should reach out to their life insurers, agents or financial professionals for their COVID-related questions. They will be happy to help.'
The Canadian Life and Health Insurance Association published a statement on March 8, 2021, that also confirmed that deaths from COVID-19 vaccines would not cause a denial of life insurance in Canada:
Getting the vaccine will not affect your insurance coverage. No one should be afraid and choose to not protect themselves from COVID-19 because they are worried about it affecting their benefits. All of Canada's life and health insurers are supportive of Canadians receiving government approved vaccinations to protect themselves from serious illness and death.
Additionally, the CDC has not verified that any U.S. deaths are directly related to the EUA-approved COVID-19 vaccines. However, very rare and serious blood clots have affected a small number of individuals who got the J&J/Janssen COVID-19 vaccine. A screenshot summarizing information about deaths related to COVID-19 vaccines is included below: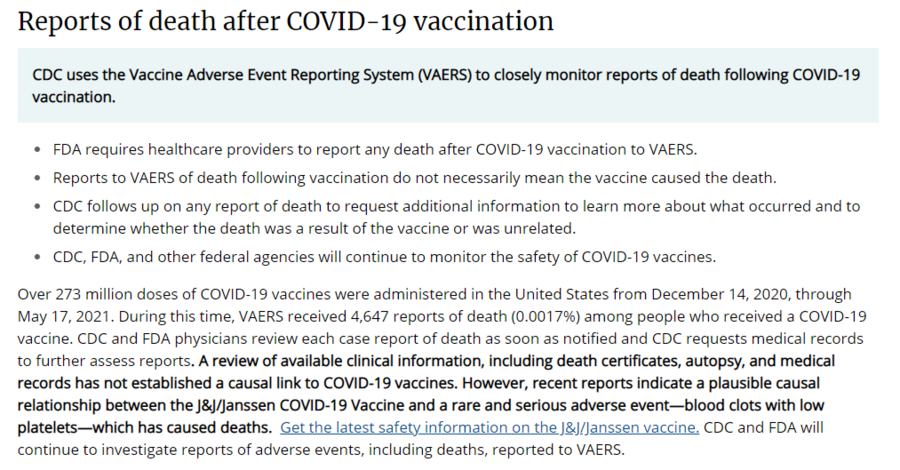 (Source: CDC screenshot taken on Thu May 20 15:10:51 2021 UTC)