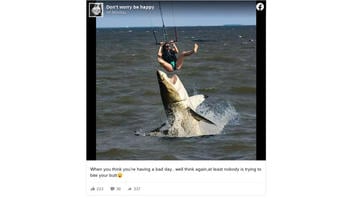 Did a great white shark try to attack a parasailer? No, that's not true: These are two separate photos that have been digitally manipulated into one. The original photo of the shark leaping out of the water was taken from an article that also includes the Instagram account "belonging" to the shark, which a marine-life research facility most likely established. Also, the original photo of the shark reveals that it was trying to make a quick meal out of a seal pup -- not the human in the altered image.
This image appeared in a Facebook post (archived here) on June 29, 2021. The caption on the post reads:
When you think you're having a bad day...well think again, at least nobody is trying to bite your butt😮
This is how the post appeared on June 30, 2021:
(Source: Facebook screenshot taken on Wed Jun 30 22:06:32 2021 UTC)
Lead Stories did a reverse image search on Yandex, a search engine that uses facial recognition technology. The results revealed that there was no news coverage of a parasailer almost being attacked by a great white shark.
However, the search did reveal more photos of the shark trying to attack what appears to be a seal pup in the picture's bottom left corner. Clicking on this image reveals that this photo was published in an article by Q'Pasa, a digital media blog based in Canada.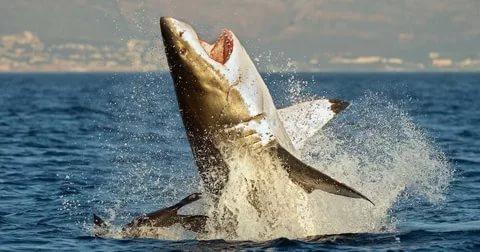 Here is the English translation of the article titled, "Great white shark spotted in Quebec waters":
A few kilometers off the coast of Les Îles de la Madeleine or the Magdalen Islands in Quebec, around the Gulf of Saint Lawrence a huge white shark was seen lurking in the waters.

This great white shark is called Brunswick and since February it has been tracked with a satellite chip by the non-profit organization Ocearch who are in charge of tracking marine life and large predators to study their movements and eating habits and surprisingly this has been the first time a great white shark has been seen this close to Quebec.

It was the city of Georgia that first discovered this white shark and proceeded to name it Brunswick, since then it has been swimming along the Atlantic coast, even last month it was tracked stalking the waters of Grand Manan Island in New Brunswick.

Due to overfishing, this great predator is about to be labeled in danger of extinction; Brunswick weighs 431 pounds and measures between 8 and 9 meters and his species is at the top of his marine food chain only killer whales pose a potential threat.
More photos of Brunswick, the great white shark, can be found with the Instagram handle @brun_brun_the_shark_slaya.
Lead Stories did an in-depth reverse image search using various search engines such as TinEye to locate the origin of the parasailer photo, but the findings were inconclusive.