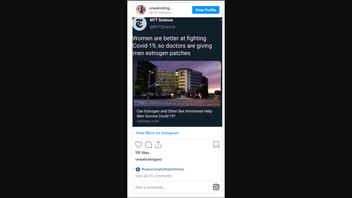 Are doctors giving men estrogen patches to treat COVID-19 since women are better at fighting the virus? No, that's misleading. An article published by the New York Times with the online headline "Women are better at fighting COVID-19, so doctors are giving men estrogen patches," was published in April 2020 -- at the beginning of the coronavirus pandemic. The article focused on two studies that had a very small number of participants. More than a year later, in 2021, the treatment had not been deemed particularly effective and the estrogen patch and other hormone treatments were not being widely used to treat COVID-19.
The claim appeared as a post (archived here) where it was published on Instagram on June 19, 2021. It opened:
Women are better at fighting COVID-19, so doctors are giving men estrogen patches
Social media users saw this: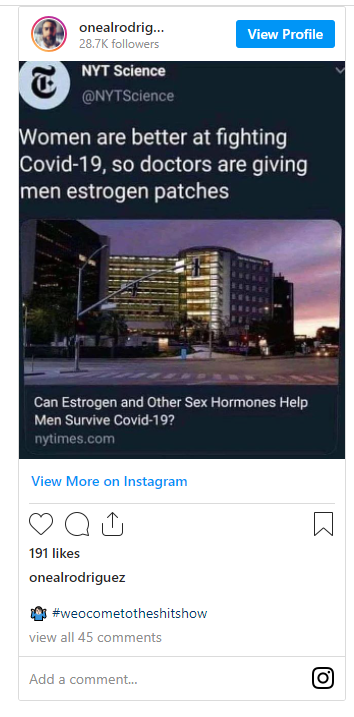 (Source: Instagram screenshot taken on Mon Jun 21 9:45:55 2021 UTC)
The Instagram screen shot removed the tag on the NY Times article that states "Published 2020" as seen on the newspaper's Twitter account:
Women are better at fighting Covid-19, so doctors are giving men estrogen patches https://t.co/TWjyDEmHx4

-- NYT Science (@NYTScience) April 27, 2020
The NY Times article focused on two small-scale studies in April 2020. One was an estrogen trial at the Renaissance School of Medicine at Stony Brook University on Long Island that included just 110 patients. It also cited a progesterone trial at Cedars-Sinai that had only 40 subjects, all men, half of whom were in a control group. The social media postings sharing the article seemed to imply that men were being turned into women with the estrogen treatment but there is no evidence that estrogen is being used widely to treat men with COVID-19.
The article detailed the two studies:
The Stony Brook estrogen trial is recruiting 110 patients who come to the hospital's emergency room with symptoms like fever, cough, shortness of breath or pneumonia, and who have either tested positive for COVID-19 or are presumed to have the illness, as long as they do not require intubation.
The trial is open to adult men as well as to women ages 55 and older, since they have low levels of estrogen. Half of the participants will be given an estradiol patch for one week, while the other half will serve as a control group, and researchers will follow them to see whether estrogen reduces the severity of their disease.
The Cedars-Sinai study is smaller, with only 40 subjects, all men, half of whom will be a control group. Only hospital inpatients with mild to moderate disease who have tested positive for COVID-19 can participate. (Patients with certain conditions, like a history of blood clots, are excluded for safety reasons.)"
A March 2021 article published by Cedars-Sinai titled, Study: Progesterone Therapy May Improve COVID-19 Outcomes for Men, noted further research was needed to determine whether progesterone was an effective treatment for men with COVID-19. The study is complete according to ClinicalTrials.gov.
Study Results
The study showed that, compared with the control group, patients in the group treated with progesterone scored a median 1.5 points higher on a standard seven-point scale of clinical status after seven days. The scale ranged from a high of 7 ("not hospitalized, no limitations on activities") to 1 ("death"). Although the progesterone group overall also had fewer days of hospitalization and a lower need for supplemental oxygen and mechanical ventilation, the differences between the two groups in those specific categories were not statistically significant.
There were no serious adverse events, including life-threatening events, attributable to progesterone administration. There were two deaths, one in each group, during the15-day study period, neither of which was attributable to progesterone.
"While our findings are encouraging for the potential of using progesterone to treat men with COVID-19, our study had significant limitations," Ghandehari said.
She noted the sample size was relatively small and involved mainly white, Hispanic and obese patients with a moderate burden of comorbidities, which increase the risk for worse outcomes. Further, although the clinical trial was randomized and controlled, it was unblinded--meaning that the investigators, the patients and the treating physicians knew who received the experimental treatment.
"Further research is necessary in larger, more heterogeneous populations, including postmenopausal women and at other treatment centers, to establish the degree of clinical efficacy and to assess any other potential safety concerns of this treatment approach," said Ghandehari, who also is assistant director of the Lung Transplant Program at Cedars-Sinai.
Progesterone is approved by the U.S. Food and Drug Administration (FDA) for use in fertility-related conditions in women but not for the modulation of immunologic-based, inflammatory responses. The FDA allowed this special use for the purpose of the Cedars-Sinai clinical trial under an investigational new drug application."
"This is not a treatment that is being used for patients with COVID-19," Dr. Rita Burke, epidemiologist and assistant professor of clinical preventive medicine at the University of Southern California Keck School of Medicine, told Lead Stories via telephone on June 28, 2021:
... This is not how doctors are treating COVID-19. The question about why do some people do better than others with COVID-19? It is a multi- genetic question.

There has been an evolution of treatment for COVID-19. Before it was supportive care and now there is medication that is more or less effective in mitigating the symptoms of COVID-19. But not hormone based therapy for an infectious disease.

The number one way of treating it is prevention and prevention is the vaccine and the vaccine coupled with practicing public health mitigation strategies - there is still some evidence that masking up indoors, maintaining a distance indoors help. We know that outdoors is safer than indoors. And with the summer weather it makes staying outdoors much easier"