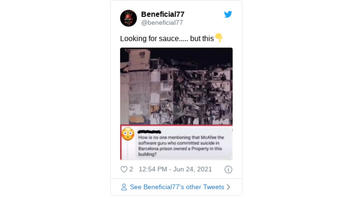 Did John McAfee own property in the collapsed apartment tower in Miami? No, there is no evidence that the late antivirus software inventor owned property in the 12-story Champlain Towers South condo high rise north of Miami that collapsed on June 24, 2021.
The claim appeared as a post (archived here) where it was published on Twitter on June 24, 2021. It opened:
Looking for sauce..... but this
This is what the post looked like on Twitter at the time of writing:
(Source: Twitter screenshot taken on Sat Jun 26 14:41:29 2021 UTC)
The post appeared on Twitter on June 24, 2021, hours after the building located at 8777 Collins Avenue in Surfside, Florida, collapsed, and a day after McAfee was found dead in his prison cell.
McAfee founded the antivirus software company McAfee Associates in the 1980s. He ran for president of the United States in 2016 and 2020 as a Libertarian. He was arrested in Spain in October 2020 on charges of tax evasion. McAfee was found dead, due to suicide from hanging, in his prison cell in a Barcelona on June 23, 2021 shortly after a Spanish judge ruled that he could be extradited to the United States on charges of tax evasion.
According to a records search of the property in Dade County, FL, John McAfee is not listed as an owner of any of the 135 units in the building. He is also not publicly connected to any of the LLCs listed as owning property in the building.
A tweet surfaced that purported to be from McAfee posted on June 8, 2021, at 10:03 am with the message: "If anything ever happens to me, please know that the 31TB of files I have are located on hard drives in my condo near 88th Street and Collins Avenue just north of Miami Beach."
There is no evidence of that tweet on his timeline. A search of Twitter from June 8 shows two tweets from McAfee, neither of which show the text in the message regarding a computer hard drive in Miami. There is no evidence the tweet was posted then deleted. These are the tweets he posted on June 8, 2021:
I have a million followers but I'd be surprised if even 1% bother to read my tweets.

Ramblings of an old man lost in a near infinite Twitter verse - like tears in rain.

As you may guess I'm having a down day.

-- John McAfee (@officialmcafee) June 8, 2021
Now its Jeff Bezos.

If space travel improves and becomes fashionable perhaps we can abandon the planet we have so thoroughly mangled and seek fresh ones to trash.

-- John McAfee (@officialmcafee) June 8, 2021
An archive of his Twitter account taken on June 20, 2021 on WayBack Machine, found here, does not show the tweet.
In 2019 McAfee tweeted about "31+ terrabytes of incriminating data" he had that would be released to the press if he were arrested or disappeared but there was no mention of it being in a condo building in Miami.
I've collected files on corruption in governments. For the first time, I'm naming names and specifics. I'll begin with a corrupt CIA agent and two Bahamian officials. Coming today. If I'm arrested or disappear, 31+ terrabytes of incriminating data will be released to the press.

-- John McAfee (@officialmcafee) June 9, 2019
McAfee's wife Janice tweeted a Father's Day message on June 20, 2021, about her husband, in which she claimed, "Now the US authorities are determined to have John die in prison to make an example of him for speaking out against the corruption against their government agencies."
Happy Father's Day @officialmcafee. Though you are spending the day in prison know that you are loved and appreciated. #FreeJohnMcAfee #FreeMcAfee pic.twitter.com/YFmB36KWfb

-- Janice McAfee (@theemrsmcafee) June 20, 2021
Lead Stories has reached out to McAfee's attorneys for comment and will update the story when a response is received.